Posted on | April 7, 2010 | 1 Comment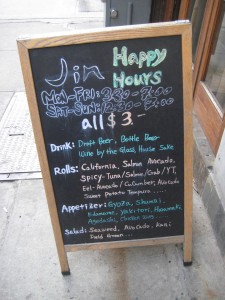 With the weather warming up, I decided to head to Jin Restaurant with a few friends for their awesome Happy Hour Special.  There's a vast selection of items (beer, sake, rolls, dumplings, along with cooked items such as yakitori, etc.) are all just $3 during the pre-dinner rush, every day of the week.  With so few good sushi restaurants open for lunch & the weather being so nice, it made complete sense to take a stroll in search of some extremely well priced food & booze.  The decor of the place is nice, with a lot of bamboo accents on the walls.  There are 2 bars in the restaurant (1 sushi bar & the other for drinking).  Open outer doors & the lack of a busy lunch crowd gave the place an airy feel.
After ordering some beer (Sapporo) & house Sake we were looking through the Happy Hour menu & decided to start with the Shrimp Shumai (6 pieces) which were simply steamed, served with a dipping sauce and shredded carrot & greens (more garnish than anything else).  The shumai was far less dense than some inferior-quality shumai that I've had before.  Instead of being a 'lump' of shrimp (or paste for that matter) wrapped in wonton, you could really taste the shrimp & its texture.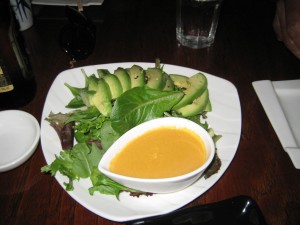 We also ordered the Avocado Salad which was served with mixed greens and a carrot & ginger dressing.  Unfortunately, the dressing was slightly on the salty side & the mixed greens really didn't do much.  The avocado was fresh,  a really simple, but tasty start.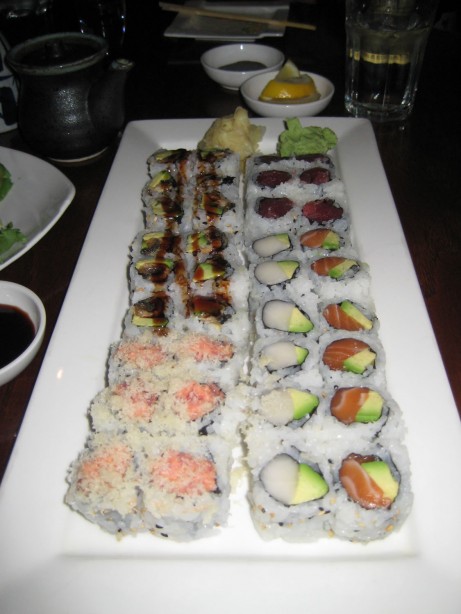 Our sushi rolls finally arrived & just in time!  We ended up ordering 6 rolls for a total of 36 pieces.  2 Eel Avocado Rolls, 1 Spicy Tuna w/Crunch Roll, 1 Tuna Roll, 1 Salmon & Avocado Roll and finally 1 White Tuna & Avocado Roll.  All of the rolls were good & very fresh (in particular the salmon), but I'll admit that nothing really blew me away.  We were all full after eating the rolls however & for a total of $18 no less (plus our drinks & appetizers).  The service was good & all in all, Jin is a great choice for a tasty bargain lunch.  If you're hungry in the Lower East Side, check them out!
Jin Restaurant: 252 Broome Street btwn Ludlow & Orchard St.

Comments