Posted on | May 25, 2010 | 5 Comments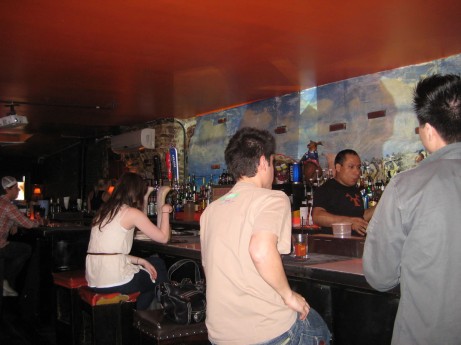 I checked out Sunburnt Cow on a recent weekend for their awesome endless brunch.  $18 gets you a brunch item & unlimited brunch drinks or Fosters or Greyhounds.  The place is normally pretty packed, as this is one of the best brunch deals in the 'hood.  We were able to snag a seat in the front.
I was pounding mimosas like it was going out of style & our waiter really was on the top of his game; my glass was never empty.  I ended up ordering the Barrier Reef Benedict; poached eggs on top of crab cakes with hollandaise, salad & fries.  The portions were really large & I really enjoyed the crab cake which was nice & flaky.  I thought that it needed a lot more acidity & wound up putting a lot of lemon on my dish.  The fries were fine & I really didn't touch my salad.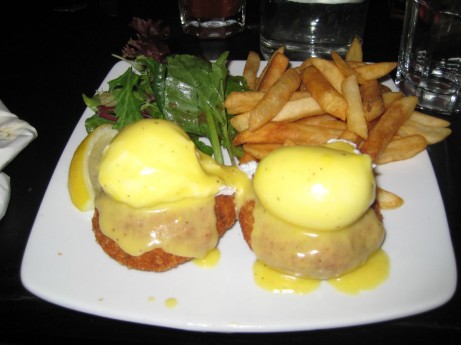 As I said before, the place can get really, really packed which might be as turn-off for some people, but the service, food (in particular portion size) & price makes the Sunburnt Cow a viable brunch option.
I've eaten there for dinner several times as well.  I particularly like the burger which comes fully loaded with beets, bacon, pinapple, egg & more, not for the faint of heart!  The menu features some nice game options such as mutton, boar & kangaroo.  Next time I go back, I'll review the dinner in full.
The Cow crew also own Bondi Road downtown on Rivington & the Sunburnt Calf on 79th street.  Check them out!
Sunburnt Cow (137 Avenue C between 8th & 9th streets)
Comments