Posted on | June 1, 2010 | No Comments
This is going to be a bit of a brief post as I was on the way to a Thrillist.com party with a buddy & we had some time to kill.  We were passing by Virgil's (152 West 44th Street between 6th & 7th Avenues) & decided to stop in for a bite.  I've heard of Virgil's before & it was pretty much all positive, unfortunately we didn't have enough time to order a full meal & try the BBQ.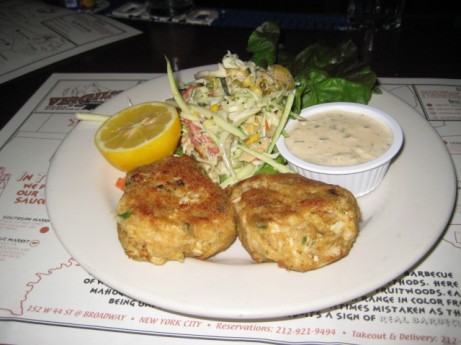 As usual, the place was slammed & it took a bit of jockeying to snag a seat at the cramped bar.  I ordered the crab cakes which came with a salad & a spicy dipping sauce.  First of all, these things were huge (at $15 they outta be!)!  They were cooked perfectly with a nice, crisp exterior & a moist center.  I ended up having to add a lot of lemon on the crab cakes (I like mine 'citrusy').  Surprisingly enough, the salad was also really good & the dipping sauce had a welcome kick to it.
My friend ordered the cheeseburger which was pretty much run of the mill, he seemed to enjoy it though.  They cooked it medium-rare as he ordered it (like me, he'll send it back if it's not right).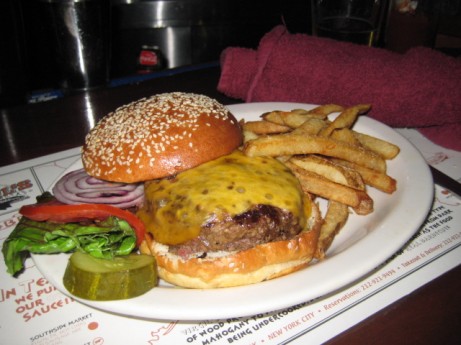 Based on our experience, I can only imagine that the full menu here is amazing.  I really would like to get a large group together & try out the BBQ & larger platters here.  On the flip-side, Virgil's does seem to be a bit on the expensive side…  Not a deal-breaker, but something to consider.  However, if public sentiment is correct, Virgil's ranks right up there (if not above) with the NYC BBQ greats; Blue Smoke, Dinosaur BBQ, etc.

Comments