Posted on | June 3, 2010 | 2 Comments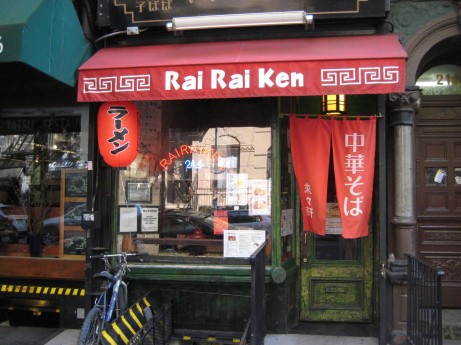 If you've been reading my blog for any length of time then you'll know that I'm a sucker for good Ramen which is why I love Rai Rai Ken so much.  The place is tiny & immediately reminds me of the noodle bar from Blade Runner.  It's basically a long service bar with stools (really low & uncomfortable) running the length of the restaurant.
They have some pretty delicious specials & a 'frequent diner card' that gets you a free bowl of Ramen after you buy 8 (I could have filled up 2 or 3 of these badboys, but I keep on forgetting my card at home).  Unlike Minca & Kambi Ramen House (2 places in the East Village that I absolutely love!), the broth here is not a thick which makes the ramen here a lot less heavy & filling, perfect for warmer weather.  Add $3 Saporro bottles to the equation & you've got a real winner!  Due to the size of the restaurant, you really don't have to wait long for your food which is a major plus.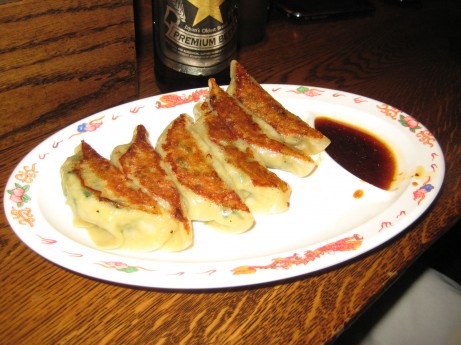 As usual, we started with the gyoza which are pretty darn tasty.  I'm not 100% sure if they make these in house, but I would be very surprised if they didn't.  Filled with meat & vegetables & steamed then  fried till one side is brown & crispy, they're an lead-in for the noodles.  They also serve appetizer sized bowls of fried rice; Vegetable, Seafood or Pork.
I always get the soy based Shoyu Ramen which has a very thin/light broth.  It's a bit on the salty side, but I really like it.  Another thing that's great about Rai Rai Ken is the noodles they use.  They're fresh & very thin which makes for a nice 'slurping' experience (check your table manners at the door, odds are you'll be leaving covered in broth!)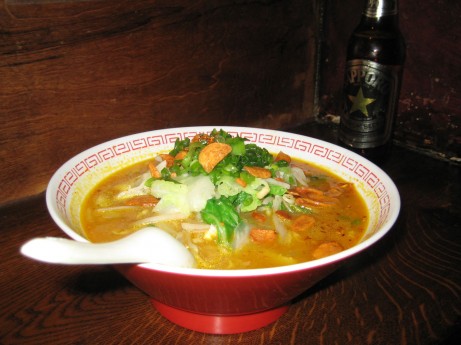 My lunch partner opted for the Miso Ramen which has the same soy base but has a lot of veggies added in; crispy garlic, cabbage, onion & beansprouts.  I haven't tried that one myself, but he seems to enjoy it.
I'm a huge fan of Rai Rai Ken & will continue to go there!  They also deliver ($10 minimum, ramen + gyoza should cover you), but when I order from home, the taste is never quite the same…
Rai Rai Ken: 214 East 10th Street between 1st & 2nd Avenue

Comments