Posted on | October 18, 2010 | 1 Comment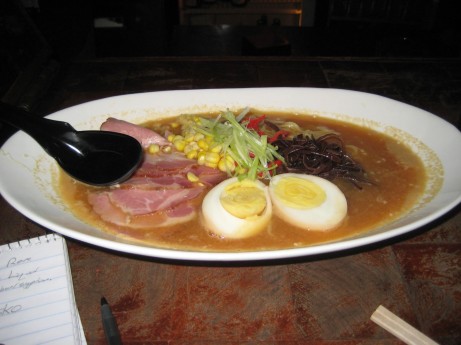 It's no secret that I have a real soft spot for Sake Bar Satsko (further info here), the tiny east village restaurant & bar that over the years has become my go to place for good times.  I found out last week that the owner, Satsko Watanabe has begun making Pork ($12) & Vegetable ($11) Ramen on the nights that she's in the kitchen, I went there last night to try them out.
The broth is slight, but doesn't skimp on flavor.  It's a miso, kelp & shiitake broh & honestly very tasty.  The ramen are served with sweetcorn which adds a nice crunchy texture & a burst of sugar.  The pork is thinly sliced, fatty smoked pork that really compliments the broth. Greens, a hard boiled egg & pickled ginger round the dish out.  The ginger is absolutely delicious & gives the ramen a real spiciness.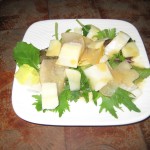 They also had a special last night, an Asian Pear Salad with ingredients mainly sourced from the Tompkins Square Park greenmarket earlier that day.  The sweet pear was served with endives, sharp white cheddar, mixed greens & a vinaigrette made from Sesame oil, miso, olive oil, lemon, mirin & yuzu.  Really light & refreshing.
As a newcomer to the East Village Ramen scene, Satsko's holds it's own.
Sake Bar Satsko: 202 East 7th Street between Ave. B & C.
Comments