Posted on | November 12, 2010 | No Comments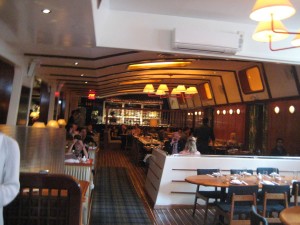 I'm never one to shy away from trying a new restaurant (unless it's out of my comfort zone –I'm talking to you Upper West Side!), so when I got an email from Tasting Table about a Late Brunch they were sponsoring along with Stella Artois, I jumped at the chance. Lure Fishbar (142 Mercer Street at Prince) was the location for the October 2nd Event.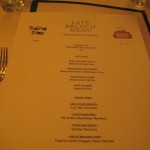 We had a bit of trouble finding the joint as it's hidden in the lower level of the corner building.  Once we got in there though, the space is absolutely stunning.  Nautically themed with plenty of varnished wood planks & a sloping ceiling, you really get the impression that you're in a yacht heading to Monaco or some other amazing destination.  The deal was $20 for an appetizer, an entree (a choice of 4 for both courses) & 2 pints of Stella Artois, not bad at all.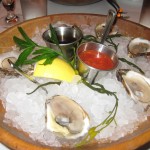 We were both really happy to see that the items on the brunch menu gave us a bunch of different options, the full menu was pretty well represented.  I was really giving the Deviled Eggs & Caviar a look, but in the end both of us got the Blue Point Oysters.  They were served with cocktail & mignonette sauces & presented beautifully in giant wooden bowls.  The oysters were good & obviously very fresh, nothing much else I can say here.  I was glad that they served them with the traditional sauces & not funky concoctions that some restaurants come up with.
Even though the place was pretty busy (lots of people were getting the Late Brunch), service was not rushed & we had plenty of time to heckle our awesome waitress who had absolutely no problem holding her own with us.  My brunch buddy got the Cheeseburger which was served with french fries (more on those later) & two onion rings on top.  Kind of strange, but I'm not one to judge.   Obviously sharing a burger is hella creepy, so I didn't get to try any, but it looked like Pauly enjoyed it.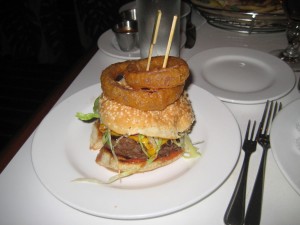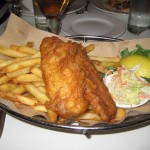 I got the Fish & Chips which were served simply in a basket with lemon & a small coleslaw.  The fish was moist & flaky & the batter was very crisp, but a bit on the oily side.  Growing up in England, I'm used to greasy fish & chips, so I had absolutely no problem with it at all.  I added a bit of lemon & had some tartar sauce on the side, totally reminded me of the paper-wrapped fish & chips I used to get in Stanmore.  The fries were absolutely amazing, fried to golden perfection!  I haven't had fries this good in a long time, so I was really pleased with myself.
Things were beginning to wind down & we were both pretty full, but as we were seated near (well, sort of) the sushi bar, I forced my friend to get a piece of King Salmon sushi ($4.75) with me.  Wow!  Although expensive, this was some of the best salmon I've had in a while, really crisp with clean flavors.  As service was ending, we noticed that the Late Brunch diners were able to take their Stella glasses home with them.  The waitstaff cleaned, wrapped & bagged them which I thought was pretty cool.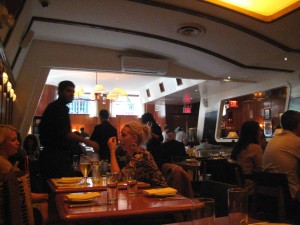 I know that this is just a review of brunch, but if this is any indication of the full menu, you can bet your ass that you'll have a good meal at Lure.  Enjoy!
Comments