Posted on | December 5, 2010 | 3 Comments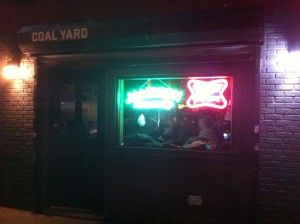 I had mentioned back in mid-October that Lilly Coogan's was being re-opened as Coal Yard (102 First Avenue @ 6th Street), well they've been open for more than a month & the Yard has quickly become one of my favorite bars in the East Village.  I figure it's about time I reviewed bars & this is as good a place to start as any.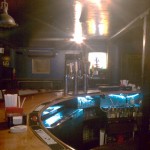 I had never been to Lilly Coogan's, but from the information I've been getting from patron's & one of the owners Molly, there was extensive work done on the space.  It's cavernous & a bit dark (which is right down my alley) with seating in the back, but the main attraction is the sweeping curved bar/seating area.  There are 8 taps (including Captain Lawrence Pale Ale) all $5 or less & a great selection of inexpensive beers; Coors, Rolling Rock etc.  My absolute favorite is Session.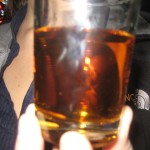 It was my first time seeing Session on the East Coast, so I was pretty excited.  $4 for an 11oz. bottle which is great!  They don't rake you over the 'Coals' at Coal Yard (sorry, I just had to do that) & all well drinks are $4.  As you can see by the picture on the right, the bartenders are pretty heavy-handed which is just fine with me!  I recently went there on a Saturday just after opening & was able to take a little tour.  They have a dart board in the back & a small courtyard that's still a bit of a work in progress.  Given the current weather, I doubt that will get much use till Spring anyway.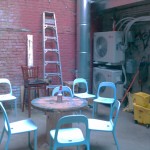 The jukebox has an extensive selection including Roger Miller, The Velvet Underground, Dolly Parton, Led Zeppelin and Bo Diddley.  Happy Hour which runs daily from 3-8pm knocks a further dollar off of everything.  Inexpensive drinks, a neighborhood vibe & friendly bartenders have made a convert out of me, I really love Coal Yard!
Check out further coverage  plenty more pictures by Marty Wombacher.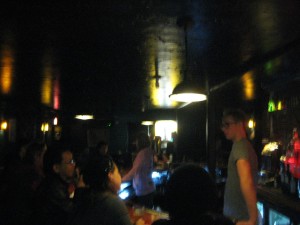 Bar Type: Dive
Amenities: Darts, Jukebox
Prices: $4-$5
Rating: 4/5 Mugs
Comments