Posted on | January 7, 2011 | 1 Comment
I'm going to start by saying that this is a post about the lounge downstairs at Bond St (6 Bond Street between Broadway & Lafayette) & not the restaurant upstairs.  The food comes from the same kitchen, but the dining experience can be as different as night & day (more on that later).  I've been going to Bond St for the excellent Sushi & awesome staff, but there was a massive shake-up a few years back & all of my favorite bartenders left.  Recently, I decided to go back to check the lounge out.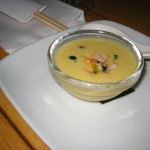 The space is really nice, with several low seats & tables and a long wooden bar topped by a few seats for eating sushi at the bar.  As soon as we had sat down & ordered our drinks (a wide selection of beers on tap, a full bar & plenty of Sake), the chef offered up a sort of 'Seafood Custard'.  I know that this dish probably has a name, but this is the best description that I can offer.  It was light & flavorful (the fact that it was room temperature freaked me out initially), luckily my brother doesn't like eggs, so I had both.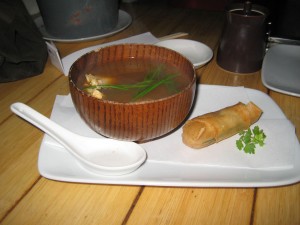 My brother ordered a seafood soup that came with a seafood egg roll.  Unfortunately, I don't think he was very impressed with it.  I think it might have been a special as I've never seen it on the menu before.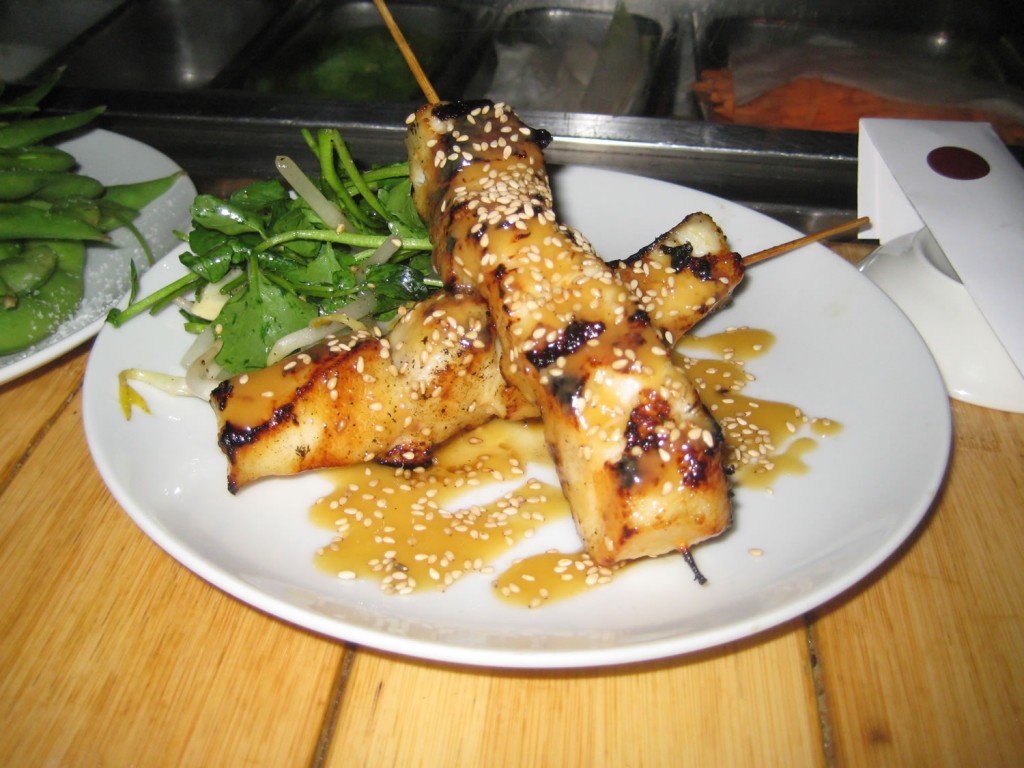 We made sure to order our favorite dish, the Sea Bass Skewer which is well worth at trip to Bond St just by itself.  I really don't know how they pull this dish off, it has perfect charring which offers up a great crunch while the fish at the center is never overcooked.  Topped with a sweet sauce that reminds me of a lighter version of Kabayaki sauce (the stuff they put on eel/Unagi) & sesame seeds.  I'd kill for this dish!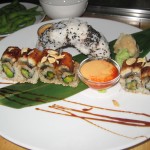 Not wanting to leave out the raw fish, we ordered 2 rolls.  The Hot Eel Dice, a play on an eel & avocado roll with the eel & diced almonds on top.  We also had the Spicy Tuna roll which is among the best I've ever had in the city & really packs a punch.
The lounge at Bond St is a great place for a casual meal & great drinks.  If you're looking for something more formal, you can eat upstairs in the restaurant which boasts a larger menu.  I prefer to eat in the lounge as it much more lively & every time I've eaten upstairs, there have been major problems with the service.  Give Bond St a try!
More coverage here.
Comments