Posted on | January 25, 2011 | No Comments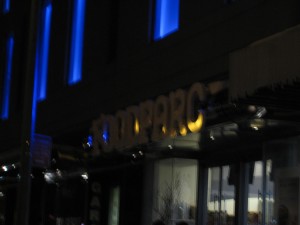 Way out of my normal stomping grounds & with possibly the shakiest camera in existence, I headed up to Food Parc (851 Avenue of the Americas at West 30th Street) for some late night food & drinks.  I had never been there before or even heard of it.  I was pleasantly surprised  to find a bright, modern indoor/outdoor food court.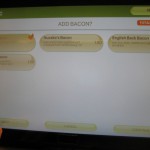 There are 4 restaurants in the space & a pop-up bar.  I'm not sure if this is there all of the time, but There was some sore of gallery opening after-party & I indulged in $2.50 cans of Pabst Blue Ribbons.  Orders are taken from fancy touchscreen kiosks & a bank of large monitors let's you know when you're order is ready.  We had to go to the cashier & order as the kiosks don't have a medium-rare button for the burgers on sale there from 3Bs (Bacon, Burgers & Beer).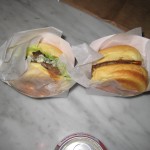 My friend & I both got cheeseburgers, he happened to get a few more toppings then I did, but my burger was overcooked which, as you can imagine, ruins a dining experience pretty damn quickly.  I think they have good intentions, but left my burger on the griddle a bit too long.
Our mutual friend got an eggplant Parmesan type thing from the Italian eatery Fornetti.  I didn't try it, but I think it was well received.  There is a coffe shop called Press & an Asian & dumpling spot called Red Farm Stand as well.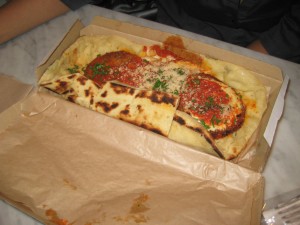 Obviously, I tend to keep to restaurants further south & east, but it was nice to check out some other areas of the city.  I like the look of Food Parc & it's an interesting concept, but odds are I won't be going back there again.
Comments