Posted on | May 26, 2011 | No Comments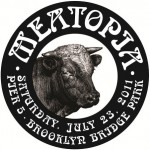 Grub Street recently released the extensive lineup of chefs at this years Meatopia, the self-proclaimed " Woodstock of Edible Animals" taking place at Brooklyn Bridge Park on July 23rd. Eduard Frauneder, the chef at Edi & The Wolf, will be the only East Village chef participating, but don't let that deter you.  I'm looking forward to offerings from Scott Smith, Brad Farmerie & April Bloomfield.
Organizer Josh Ozersky, aka Mr. Cutlets, is trying to procure a whole buffalo for chef Mike Cirino of A Razor, A Shiny Knife (click for a video of the 6 course meal he served on the L train recently), that would be worth the price of admission by itself.
Tickets for the event, which takes place at Brooklyn Bridge Park July 23, are going for $85 (for unlimited tastings), $130 (for that plus unlimited beer and a T-shirt), and $195 (for that plus an hour of early access and VIP access).
Get your tickets here.
Comments