Posted on | June 20, 2011 | 1 Comment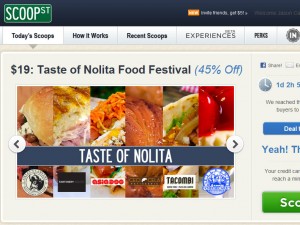 Sort of like the Taste of 7th Street Food Festival that I've spoken about before, Scoop St. is bringing us a Nolita version.  Honestly, I'll admit that I don't know that much about restaurants in the area, but it's not too far from the East Village & the lineup does look sick. A mere $19 gets you food from 6 different restaurants.
Asiadog – any one of their signature hot dogs with your choice of their seven toppings
Tartinery – one small croque monsieur tartine (open-faced croque monsieur sandwich)
Tacombi – one taco al pastor (marinated pork with pineapple)
Oxley's Carvery – Choice between:
A) Any signature sandwich
B) One Yorkshire pudding platter duo with pulled pork and braised beef
Ceci-Cela – one small croissant
Eileen's Special Cheesecake – one mini cheesecake
Personally, I'm really looking forward to Asiadog & Oxley's Carvery.
Visit Scoop St. to get your tickets.
Update: Full recap here.
Comments