Posted on | August 17, 2011 | No Comments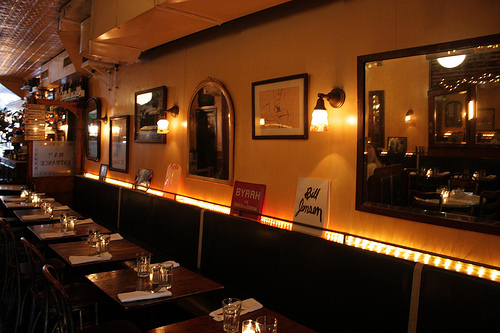 Hot on the tail of 'Monday Night Steakhouse', Casimir's new owner, Mario Carta, is introducing bottomless Mimosas & Bloody Marys at brunch for $19.95:
NEW YORK- NY On Saturdays and Sundays Casimir is serving brunch with bottomless Mimosas and Bloody Marys! For only $19.95 you can enjoy their delightful brunch menu and as many of the two brunch beverage favorites as you can drink. Come in between 11am and 4pm and get your Saturday off to a good start or begin your Sunday Funday!

Casimir takes classic French dishes and serves them for brunch, every New Yorker's favorite meal. Choose from sweet or savory dishes that will fit in with whatever time you make your way to the EastVillageinstitution.  The $19.95 brunch menu consists of Fruit Buttermilk Pancakes served with fresh fruit, syrup and sweetened cream, Brioche French Toast with fresh fruit, syrup and sweetened cream, Croque Monsieur or Madame with mixed greens, Granola with fresh fruit and honey yogurt. Feel a little healthier with the Salade Dubarry with fennel, radicchio, mesclun, asparagus and green beans or the Spinach & Chickpea Omelet with garlic roasted potatoes or a Toasted Bagel and Pernod Cured Salmon with tomato, onion and capers. Indulge with Eggs Benedict (Florentine or Scandinavian) with poached eggs, with Bayonne ham or spinach or smoked salmon on top of a toasted muffin with Hollandaise sauce, among other offerings. Not in the mood for a brunch cocktail?  Any of the items above can be paired with coffee of tea for $9.95.   Casimir also features a la carte brunch offerings that are sure to please.

Visit this classic French eatery which is currently under new management. Mario Carta formerly of Chazel and Leah is applying his decade's worth of expertise in managing and developing restaurant concepts to Casimir in an effort to revitalize the famed restaurant.
Carta is obviously taking the restaurant in a new direction & possibly trying to compete with Sunburnt Cow a few blocks away which is the only other place that I know of in the East Village that offers endless booze at brunch.  You might not recognize any of the new waitstaff, but the kitchen, helmed by Chef Blair Hanlet, is still intact.  We'll have more news later.
Photo by Carbapple
More on Casimir
Casimir: 105 Avenue B between 6th & 7th St.
Comments