Posted on | September 22, 2011 | No Comments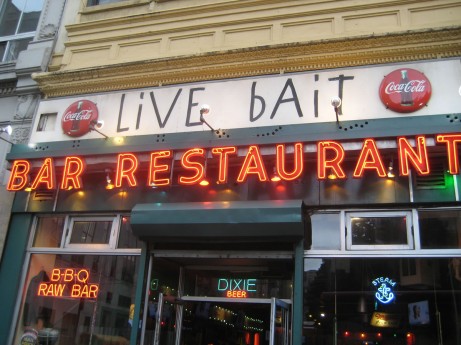 Southern & Cajun cuisine ranks pretty high on my favorite food to eat, so I've been slowly trying to cross of as many restaurants in the city as I can.  This week it was Live Bait's turn.  I've passed by the place a bunch of times, but never eaten there.  While researching places for lunch, a friend suggested it, so after looking at the menu, I was excited to see what they had to offer.  The space is Cajun through & through with corrugated iron on the walls & the definite feel of a bait shop somewhere in Louisiana.  I started with a Lynchburg Lemonade & looked at the menu.
While Live Bait does offer BBQ options, the focus does seem to be on seafood & other Southern mainstays like Fried Chicken & Jambalaya.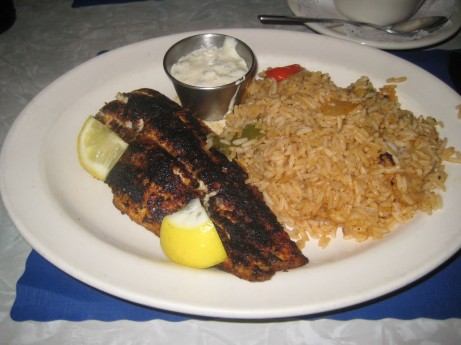 Blackened Catfish with Dirty Rice
Considering that I went at lunch, this was a really large portion.  The blackening spice had quite a kick to it & the fish had a great char without being dry.  Dirty rice (for those of you who don't know) is rice cooked with chicken livers or giblets which add an awesome flavor & give the dish it's signature 'dirty' look.  My only real gripe was that there was no sauce other than the tartar (more on that later).
Red Beans & Andouille
One of the several 'fixins' available for $3.50.  I'm a huge fan of Andouille so this dish stuck out like a sore thumb.  It had a smokey flavor & wasn't overly spicy but I thought that the beans might have been a slightly under-cooked.  The broth, however, was an excellent topping for the dirty rice that I had ordered.
Plantation Gumbo
My sister ordered this dish & I tried a bit.  Live Bait's gumbo is andouille sausage, tasso ham, shrimp & chicken over rice, a bit of an 'everything but the kitchen sink' dish.

We enjoyed our lunch at Live Bait, I would like to go back to try the Fried Chicken though as a nearby table ordered it & it looked great.  This was my first time trying a Lynchburg Lemonade & if that's the way it's meant to be made, I won't be ordering one ever again.  If you're in the area check Live Bait out.
Live Bait: 14 East 23rd Street at Madison Avenue

Comments