Posted on | October 12, 2011 | No Comments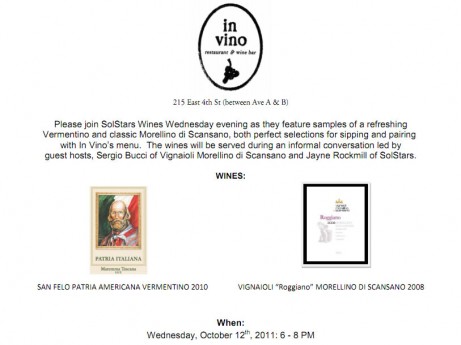 In Vino, one of the many excellent Italian restaurants in the East Village will be hosting a wine tasting tonight with Sol Stars:
Dear Lovers Of WINE!

We have brought in two new wines from Tuscany and have a chance to pour them both totally on the house. Come on in and get a glass each of a beautiful Autumn white made from Vermentino and an earthy Morellino Di Scansano.

After you taste the awesomeness and talk with the Jayne Rockmill and the wine maker himself, Sergio Bucci, have a seat and dive into our authentic Italian menu and grab a bottle of the wnies we just plied you with! They are deliscous, seasonal and AFFORDABLE!
So, If you've got nothing to do tonight from 6-8pm, head to In Vino. If you plan to eat there, get the Lasagna!
In Vino: 215 E. 4th Street between Avenue A & B
Comments