Posted on | November 2, 2011 | No Comments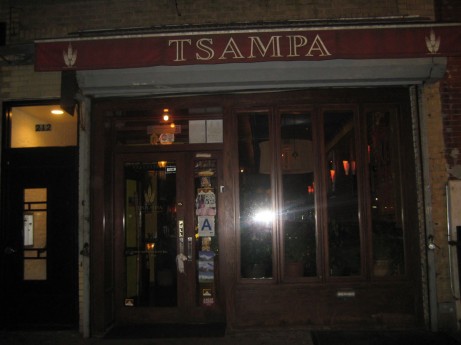 This particular area of 9th Street is packed with restaurants that I really enjoy (Yakiniku West, Village Yokocho & Otafuku, just to name a few), so after yet another failed attempt to eat at Ippudo (2 hour wait!), Tsampa beat off the competition.  The 'Zen' decor is the first thing that strikes you, the place looks great with loads of exposed brick & wood.  I've never eaten Tibetan food, so I can honestly say that I was exciting.  I was dining with a vegetarian too & Tsampa's menu does have a lot of vegetarian options.
My vegetarian friend started with a Martini, but I decided to get a beer & a healthy pour of Chivas Regal (I was surprised to see this on the menu).  The offerings at Tsampa are split into vegetarian, fish & chicken dishes with pork, lamb & beef nowhere to be found on the menu.  I thought that this was something to do with Tibetan culture, but after doing a bit of research I discovered that beef & mutton are the most commonly eaten meats in Tibet.  Even without these proteins, there's plenty of dishes to select from.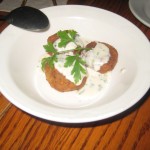 Potato Croquettes with Yogurt
I'm pretty sure that this dish actually has a name, but unfortunately I couldn't find it on any online menu.
Basically breaded, fried potato with a yogurt sauce laced with parsley & chives.  A very simple appetizer, but pretty good.

Broiled Salmon
Marinated salmon served with vegetables & rice.  I had high hopes for this dish but was ultimately let down.  I'm not sure what cut of the salmon this was (it totally lacked the normal shape of a fillet), but the edges were overcooked & very dry.  The marinade & sauce that it was served with both had good flavor, but I think this dish was just very plain.
Chicken & Scallion Dumplings
Another dish that was well received, served with greens & a chili dipping sauce.
Vegetarian Noodle Soup
A spicy, rich broth with green vegetables & broad, chewy noodles.  The vegetarian in our group loved it.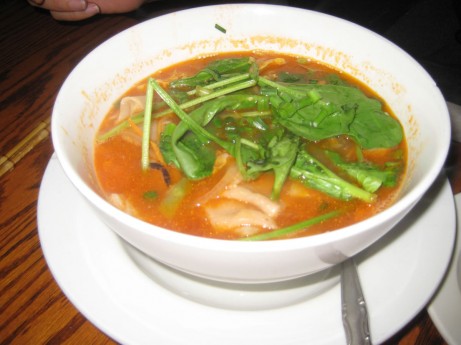 Tsampa is a good looking restaurant with excellent service.  Obviously, it's not without it's flaws & I'm glad that I tried the place.
Tsampa: 212 E. 9th St. between 2nd & 3rd Avenue.
Comments