Posted on | December 7, 2011 | 1 Comment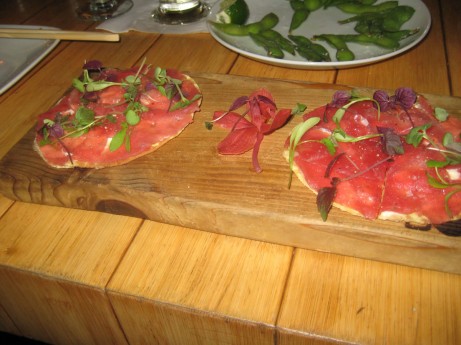 I've been going to Bond Street for about 10 years now.  Opting for the downstairs lounge as friends of mine have worked there, I've always had a good time.  Not to be cheating on my East Village sushi mainstay, Takahachi, but Bond St. takes it to another level entirely.  My last two visits with my brother have been nothing short of mind blowingly good.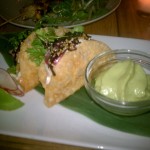 Seen above are the Tuna Tarts.  Raw Big Eye Tuna served on flaky bread with creamy ponzu, micro greens & truffle oil.  Simple. Effective.  Honestly, I didn't think that tuna & truffles would work, but boy was I wrong!
I wasn't as impressed with the Red Snapper Tacos which were served with yuzu avocado, espuma, mentaiko & sudachi vinaigrette.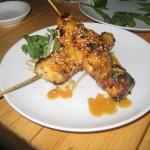 As always, the Seabass Skewers, with their amazing sweet/savory glaze stole the show.  You can't go to Bond Street without getting these.  And then there's the Hot Eel Dice, an Eel, Avocado & Almond roll which goes down quite well.  I particularly enjoyed the Monkfish Liver Sashimi.  A real treat that isn't always on the menu.  My brother wasn't a huge fan (the texture can be off-putting), so I got a double helping.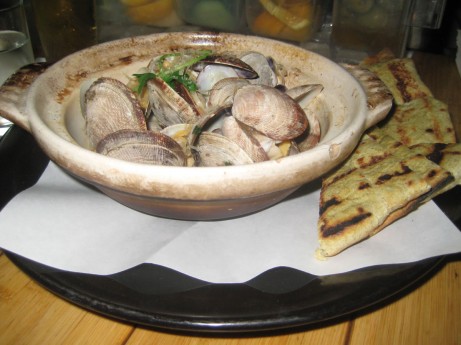 Conversely, I wasn't a huge fan of the Sapoporo Steamed Clams (I really don't like clams).  Warren, our bartender, gave us the full skinny on this dish.  They steam the clams in my favorite Japanese beer, then up the game by flying in the leftover grain from the brewing process to make flatbread.  Pretty damn special.  I've only ever had dessert there once, the Chocolate Meltdown knocked my socks off.  Well there are too many pictures for me to post in the article, so I'm just gonna throw them in a gallery at the bottom.
If you like good Japanese fare & a chill vibe.  Check out Bond Street.  I highly reccommend going to the Lounge downstairs, it's much more laid back.
Bond Street: 6 Bond St. between Broadway & Lafayette
Further coverage here.
Comments