Posted on | January 19, 2012 | 1 Comment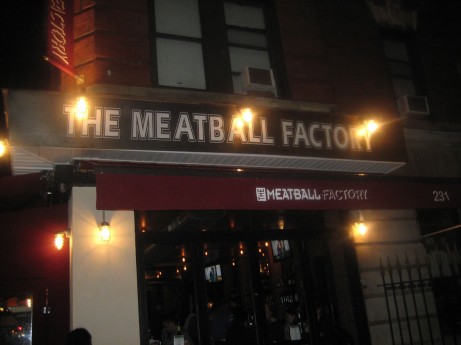 Meatballs seem to be 'trending' right now, so when I got an invite from McKenzie of MMMGuide to sample some of the food at The Meatball Factory, she didn't have to ask me twice.  The 'Factory'  opened about 3 months ago & serves salad, pizzas, fettuccine & obviously meatballs.
Here you choose your type of meatball (everything from chorizo to a vegan option) & then select a sauce to accompany which can lead to endless variations & flavor combinations.  Both the sauce & meatballs have some pretty unique names.  There was a set menu for us, so here's the rundown: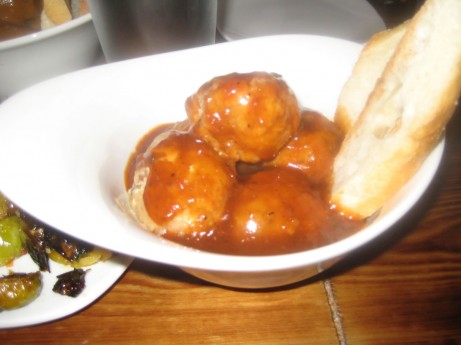 Hog Wild Meatball w/ Pepper Monkey Sauce
Braised pork shoulder, cherrywood bacon fat & mascarpone! What's not to love?  The sauce was a tangy roasted Poblano BBQ sauce.  There was some smokiness there too, I liked it.
Turducken Meatball w/Dragon's Lair Sauce
I'll admit that I was excited to try this as I've always wanted to try Turducken.  Turkey, chicken & duck confit.  I immediately liked these.  The sauce was green curry peanut & red bell pepper.  I was impressed.
Shrooming Pizza
I'll admit that I was slightly surprised to find pizza on the menu, but this isn't your average pizza.  Called Crackerbread Pizza, the crust is very thin & crisp.  As the name implies, it is topped with roasted wild mushrooms along with baby arugula & truffle cream sauce.  I'm not much of a pizza guy, but I liked TMF's version
Roasted Brussels Sprouts
Mom always told me to eat my veggies, but I'm honestly not a massive fan of Brussels sprouts.  Served with maple syrup & red chili sauce.
Hot Tin Roof Sundae
By this point I was getting full, but I can always make room for dessert.  Malted hot fudge & sea salt caramel with candied walnuts over a marshmallow gelato.  Sounds like a lot going on, but it was absolutely delicious.  Full stomachs or not, we polished the dessert off!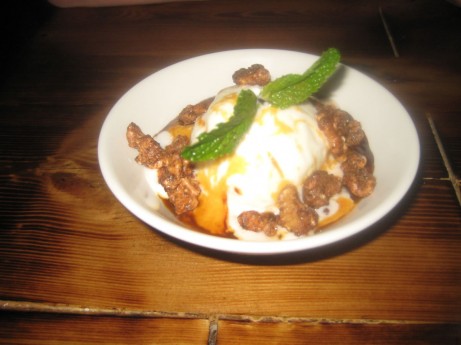 The Meatball Factory is a good looking restaurant with an open floorplan, a large bar & plenty of large windows.  The service was attentive without being pushy.  There's an extensive beer & wine selection as well.  I haven't been to any other 'meatball restaurants' in the city, but this was as good a start as I could have hoped for.  Please note that for this review I was invited to dine here, but I have tried to remain as accurate as possible.  I will definitely be going back on my own dime in the near future.
Update: The Meatball Factory is closed.
The Meatball Factory: 231 2nd Avenue at 14th St.
(212) 260 8015

Comments