Posted on | March 12, 2012 | No Comments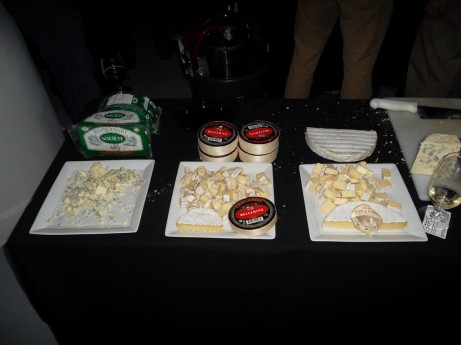 Quite by chance, a friend clued me up on a celebration of stinky cheese that was going on in early February.  As a lover of both cheese & booze, I felt it was my duty to attend, stuff my face full of cheese & report.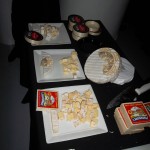 The event took place at a tri-level event space in Hell's Kitchen.  It featured both raw & cooked cheeses as well as a large selection of beer & wine.  It was a bit of a free-for-all with importers, restaurants & brewers manning tables throughout the space.  I started at the G.A.F. Seelig (a 'fine food purveyor' based in Queens) table which was right by the entrance & had my favorite cheese of the night; Pont-l'Évêque from E. Graindorge (seen in the square box in the picture).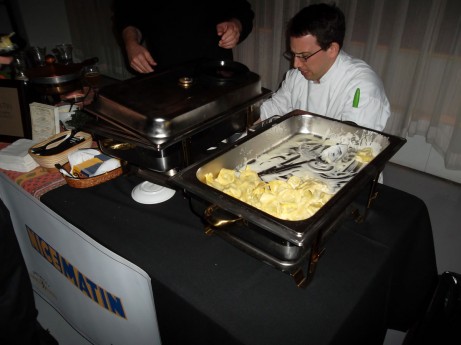 Nice Matin from the UWS went large with a suitably stinky  Gorgonzola tortellini that was my favorite cooked dish of the night.  I'm not sure if it's on their menu, but I thought it was a bold move as it had a really strong smell & flavor.  I thought it was delicious!
Goose Island had several beers on offer.  I tried the Goose Island Society a light white beer aged in champagne barrels & topping out at over 6%.  I'm a sucker for good beer so I was in heaven.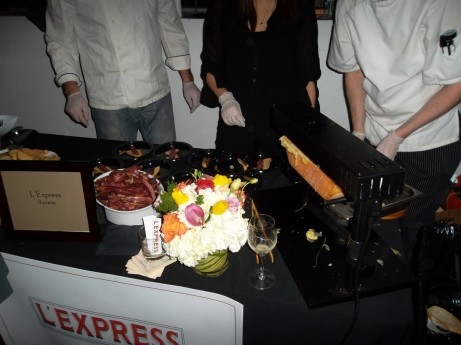 L'Express got kudos for the best service contraption which melted cheese for their raclette served with smoke pork.  Barbounia (review here) had a sweet ricotta dish with dates & syrup, it was the only dessert option that night.
As I mentioned earlier, it was a bit disorganized, I got separated from my friends pretty quickly & the cheeses weren't all labelled.  It was hard to tell what you were eating, but I found what I liked & just camped out at that table for a while stuffing my face.
I had some really great stinky cheese & I'm glad I went!
404 NYC: 33rd St. & 10th Avenue
Comments