Posted on | April 26, 2012 | 2 Comments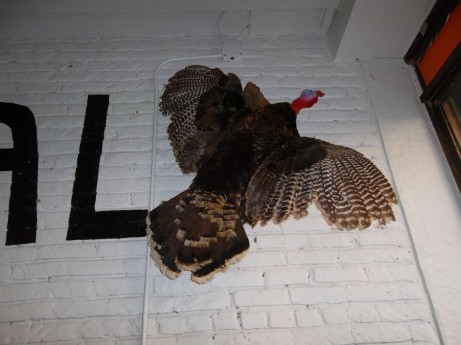 I've been eating a lot of Southern & Soul food lately, helped in part by a bunch of new restaurants springing up in the East Village.  The Cardinal opened in late August 2011, but I never got the chance to eat there till now.  Located in the space formerly held by Thai restaurant Amaya, they've totally redone the space.  White walls with the kitchen and a few tables upstairs, there's more seating in the basement.  It was a sunny afternoon when we went, so we waited for a seat upstairs by the windows.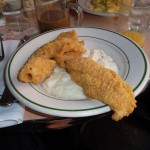 The brunch menu is typical of any Southern spot with fried chicken & fish, biscuits & plenty of grits on offer.  They have 8 beers in bottles, but I opted for the Radeburger, their only beer on tap.  Everything on the menu looked good, but I ended up ordering the Fish & Grits.  Two fried catfish fillets with a generous helping of creamy grits.  I put some hot sauce on my dish, but otherwise, this was flawless!
A fellow eater got the Sweet Potato Pancakes & when they arrived at the table I had to do a double-take; they're the size of hubcaps!  I didn't try them, but she seemed more than satisfied.  The pancakes were also served with Pecan Butter, something that I've never seen before.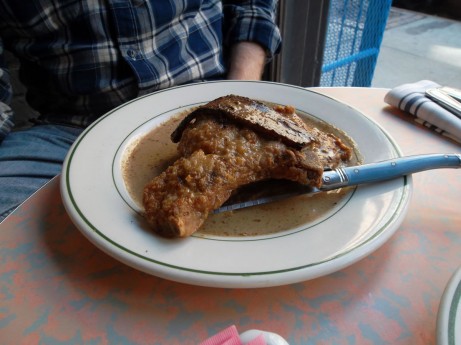 The final dish ordered was the Fried Pork Chops & Eggs.  Two massive fried pork chops topped with a slice of thick-cut bacon & plenty of Red Eye Gravy. A side of eggs &grits  went with the dish as well.
I know I've been harping on about how big the portions are.  If you come to the Cardinal for brunch, you better be hungry, or at least be prepared to take leftovers home with you.  I hope that the large portions continue in the dinner service as I plan to return soon.
It was obviously busy during brunch (I didn't take a look downstairs, but there were people waiting for tables), but our service was good & the food arrived quickly.  If you're in the mood for a filling Southern brunch, check out The Cardinal.
The Cardinal: 234 East 4th St. at Avenue B
Comments