Posted on | May 2, 2012 | 2 Comments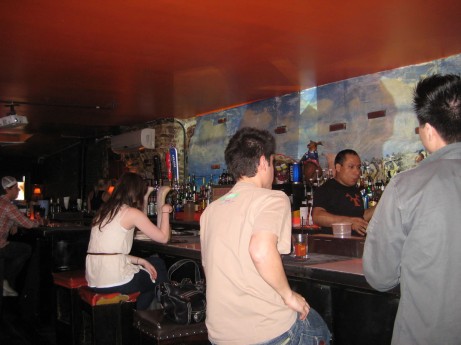 Sunburnt Cow (brunch review here), an Australian bar & restaurant in the East Village most commonly know for insane burgers & all you can drink brunches has come up with some new specials just in time for the summer.  Per the press release:
"The Sunburnt Cow is back!  Closed late last year, the Cow is up and running just in time for summer.  The $4, $6, $8 food and drink special will also be featured at the restaurant, as well as ½ Price Happy Hour on everything on the menu (including the $4, $6, $8 deal) Monday through Friday from 4:00 pm to 7:00 pm.  Endless Brunch will also be extended to Fridays from 12:00 pm to 4:00 pm – no need to wait for the weekend!
Opened 7 days a week starting May 1st, come celebrate the opening of the Cow's picturesque garden area with a "Just Say No" party!  Nancy Reagan would be proud!
$4. $6. $8 (drink/bar food special) $4 draft beer, $6 well liquor and $8 bar plates.
½ price happy hour Mon-Friday 4pm-8pm.
Endless Brunch Fridays! 12pm-4pm.
May 1st open 7 days from 4pm. 'Say no to drugs' Nancy Reagan party to celebrate the opening of the garden."
The other Moo Life Group restaurants in Brooklyn, the Lower East Side & Upper West Side will also be featuring new specials.
Sunburnt Cow: 137 Avenue C between 8th & 9th streets
Comments