Posted on | May 4, 2012 | 1 Comment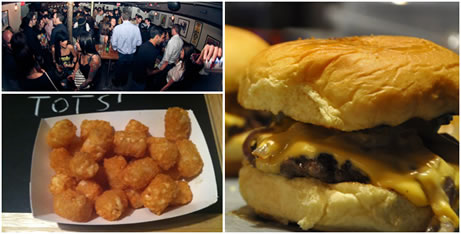 If you haven't been able to deduct from the title, tomorrow is Cinco de Mayo and also the Kentucky Derby.  Cinco de Mayo is normally seen as a celebration of Mexican pride & heritage or the anniversary of the unlikely win at the Battle of Puebla in 1862.  For a non-Mexican like myself, it's normally just an excuse to drink a lot of Tequila. I've always seen the Kentucky Derby as an opportunity for people to wear silly hats & drink Mint Juleps (I would have added betting on horses, but we don't have OTBs here any more).
Idle Hands, my favorite bourbon & whiskey bar, has found a happy medium.  They've teamed up with Time Out Offers to put together an awesome event.  For $24 you get great food from That Burger Tent: 1 burger (including the one-off Cinco de Burger), tater-tots or fries & two dipping sauces.  From the bar, you can get a margarita or a Mint Julep & all-you-can-drink Pacifico or Lone Star beer for 90 minutes.
I've had burgers from That Burger Tent & they're pretty damn tasty.  I'm interested in trying out this new incarnation.  If you haven't been to Idle Hands, this is a perfect opportunity.
If you can't make the event tomorrow, tickets are available for Sunday too.  Get your tickets here.
Idle Hand Bar: 25 Avenue B between 2nd & 3rd St.
Comments