Posted on | May 4, 2012 | 1 Comment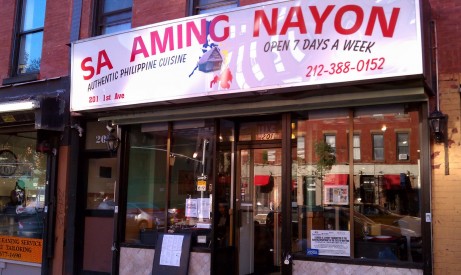 I'll be the first to admit that I'm no expert in Filipino food, in fact, my visit to Maharlika last year was the only time I've ever tried the cuisine.  I had heard good things about the food there & was feeling adventurous had a coupon to use, so I decided to give Sa Aming Nayon a shot.
We arrived pretty early on a Friday night & besides the staff (it seems family run) & one other table, the place was pretty empty.  The decor is pretty basic & we were seated in the back dining room by the garden (I'm not sure if they serve food out there in the summer).  I ordered a Filipino beer & took a look at the menu.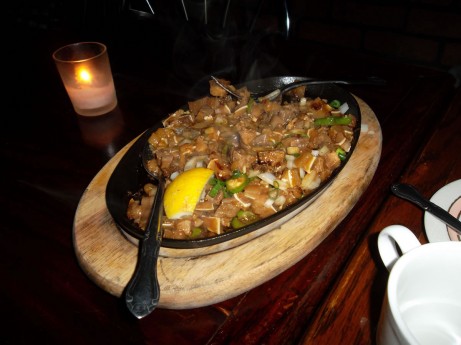 There's a whole heck of a lot of options on the menu, loads of pork & seafood and even goat is on the specials menu.  I had read Village Voice's review of the restaurant & the author (Lauren Shockey) had advised against ordering the Sizzling Sisig, but I couldn't resist.
Served sizzling on a platter, it's pork belly, ear & snout served with egg yolk & chilies;  What's not to love about this dish?  All those fatty, flavorful bits in one dish!  Village Voice claimed that the dish was too greasy, but I disagree.  This was meant to be an appetizer, but there was a lot of food on that plate.
My friend got one of the vegetable dishes, but I can honestly not remember which one it was.  It was in the vegetable section of the menu, but was definitely not vegetarian.  All but one of the dishes included seafood, pork or both.  Served with a side of rice, he enjoyed it.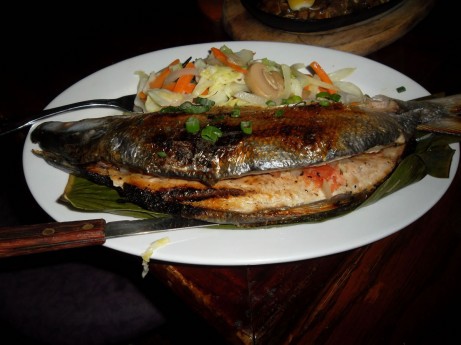 Continuing with my quest to go home bloated, I ordered the Grilled Milkfish (also known as Bangus) served with vegetables.  I'd never had this fish yet (it's very popular in the Indo-Pacific region) & I had no idea how big it was.  It was very moist & very tasty with lemon & chili sauce.  I pretty much ignored the vegetables as I was trying to eat as much of the fish as possible.
Needless to say, we both left stuffed.  I took home the leftovers & as per the waiter's suggestion, I made scrambled eggs with the Sisig the next morning.  It's not as refined as some of the other Filipino restaurants in the neighborhood, but the staff are friendly, the food is good & the portions are massive!
There has been some news on blog EVGrieve that they might be closed, bummer!
Update: Sa Aming Nayon is now Jeepny, a Filipino Gastropub from the guys behind Maharlika .
Sa Aming Nayon: 201 1st Avenue at 12th St.

External image via Destination Eats.
Comments