Posted on | May 17, 2012 | No Comments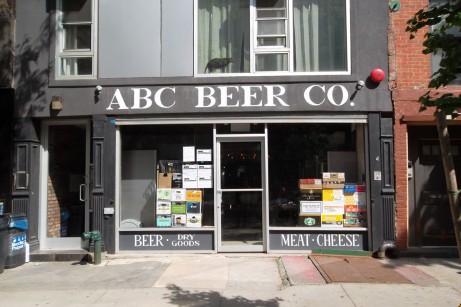 Work began in early February of this year & Alphabet City Beer Co. finally opened today.  Housed in the former CHP Hardware space, you'd hardly recognize it now.  Owners Dave & Zach opened at noon today & I arrived with a few other locals to check the place out.  The first thing that strikes you is the large bar area & the massive 16-foot table in the back, complete with worn-in leather armchairs (mismatched Craigslist finds) to the side.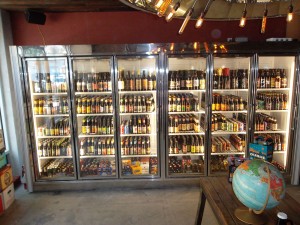 There are 12 beers on tap (this being the first day of business, they were working out the lines) & over 300 craft beers in bottles & cans.  There are also a few canned & dry goods for sale.  With both Dave & Zach having cut their teeth at In Vino, it was no surprise that there were high-end pastas & sauces on the shelves.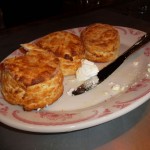 After checking the joint out, we sat at the bar to sample some of the beers.  I started with a rather strong (11% or thereabouts) Abita before moving on to the much tamer Narragansett.  Martin Johnson from Gastronomie 491 was busy stocking the deli counter with cheese & meet.  We tried a few of the hard cheeses, then Bobwhite Counter (review) were kind enough to bring over a plate of buttermilk biscuits.  Served with the biscuits was an amazing marinated goat & sheep's milk cheese from Australia that Martin hadn't given a name to yet.  It had the consistency of a ricotta, but with a tart flavor & hints of garlic (the oil it was in, perhaps?)  I think I've found my new favorite cheese!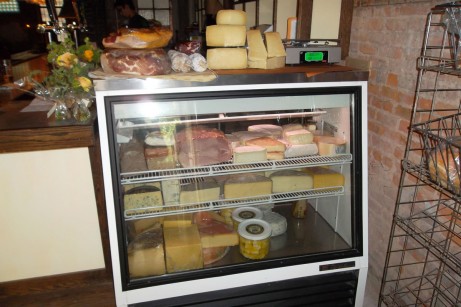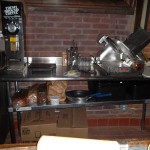 Meats, cheeses, bread & growlers will be available to take home.  The guys are still working on the menu, but it's looking like sandwiches (they have an induction cooktop for grilled varieties), salads,  olive & pickle plates (including pickles from Brooklyn Brine), plus meet & cheeses.  Who doesn't like a snack while downing beers?  The place has the vibe of nearby Good Beer, but with more taps, an extended food program & a lot more seating. The aptly named 'Game of Thrones' communal seating table in the back is the centerpiece.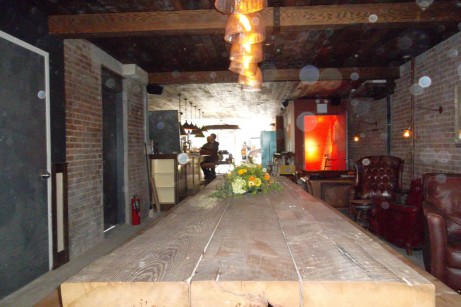 ABC Beer Co. is open Noon to Midnight & stays open late (2am) of Friday & Saturday.  Coffee (in both hot & iced varieties) will be on offer too.  Honestly, I'm really excited about this place & I'll be going there regularly.  I suggest you try it out!
Check out Thrillist's video of the joint.
Alphabet City Beer Co.:  96 Avenue C between 6th & 7th St.

Comments