Posted on | September 28, 2012 | No Comments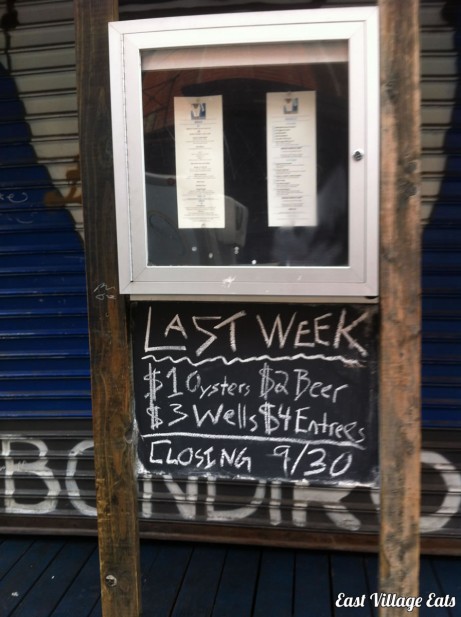 A friend passed by Bondi Road in the Lower East Side & noted that there was a sign up stating that the Australian restaurant will be closing on September 30th.  Owned by Moo Life Group, the same folks behind Sunburnt Cow (coverage) in the East Village, it seems that skyrocketing rents have forced the closure.
As per a July press release:
"It's the end of an era.  The Moo Life Group, creators of some of New York City's most popular Australian restaurants has announced the impending sale of Bondi Road, the Australian seafood beach shack that opened in 2006 and the closing of its flagship restaurant, The Sunburnt Cow, for major renovations.  These two changes are part of a restructuring of the Moo Life Group brand that will return the restaurant group to its original mission – to develop gourmet Australian concepts in the United States and abroad.
The sale of Bondi Road was precipitated by a dramatic increase in rent for the space located at 153 Rivington Street(between Suffolk and Clinton Streets) in the Lower East Side of Manhattan, an issue faced by many New York City businesses and institutions.  The Sunburnt Cow, the first restaurant concept developed by the Moo Life Group at 137 Avenue C (between 8th and 9th Streets) will not only undergo a physical transformation, but will also shift focus to more gourmet oriented food and drink as opposed to its current deal-driven status.
"We are very excited about these changes and what they mean to the future of the Moo Life Group," says founder and owner Heathe St. Clair.  "I want to thank all of our loyal customers who have made Bondi Road and the Sunburnt Cow so successful throughout the years.   It was not an easy decision, but although Bondi Road will be gone, we look forward to the reopening of the Sunburnt Cow and introducing a new approach to Australian dining in New York City. "
photo credit D. Husson
Comments