Posted on | October 27, 2012 | No Comments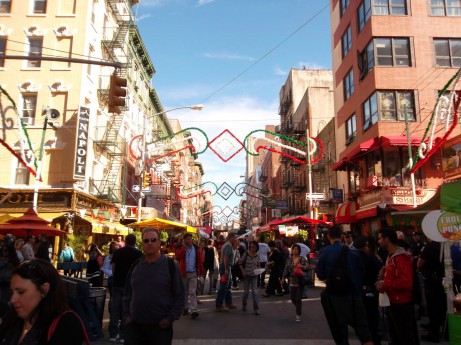 I realize that this is a bit of old news, but I felt the need to write about this year's Feast Of San Gennaro which took place on Mulberry Street in little Italy.  In it's 86th year, the event lasts 11 days & is a celebration of the patron saint of Naples.  I went during the week, so it was busy, but not crowded like the weekends.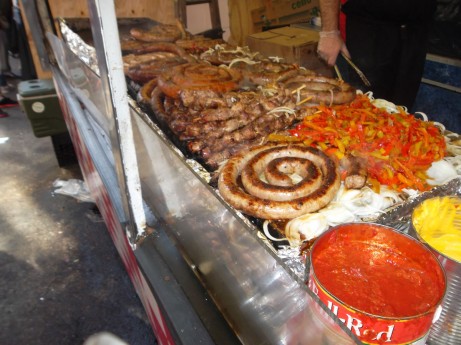 I started on the north end at Mulberry Street & Prince St., but the smell of sausages & peppers wafted several blocks away.  Vendors were selling everything from T-Shirts to trinkets featuring Italian flags.  Carts sold Frozen drinks & ended up trying an oddly named concoction called 'Miami Vice' which was a mix of 3 frozen Pina Coladas.  There was plenty of food to be had as well, with inventions such as the Mozareppa. A Mexican-Italian mix, basically an arepa filled with mozzarella.  I didn't try them, but they sure did look good.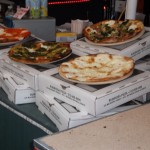 One of the highlights was the pizza from Rubirosa which was cooked in an awesome wood fired oven that they had parked outside their restaurant on a trailer.  Obviously, there was loads of seafood to be had & I literally had to avert my eyes so that I didn't order a lobster as I had dinner plans a few hours later.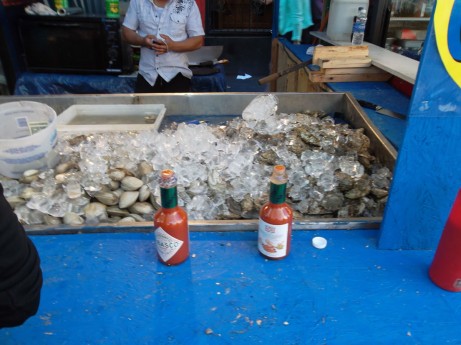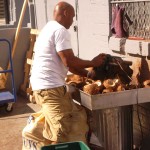 Food offerings got more serious as we crossed Delancey St & entered little Italy (there was far less house music blaring too).  Looking off into the side streets, there was a Ferris Wheel (albeit in miniature) & a gentleman cutting the tops off of coconuts with a circular saw.  I didn't try whatever drink they were selling, but I did watch for a while to see if he'd lop a finger off.
In the midst of all these Italian revelry, there was a lone Malaysian restaurant which I thought was out of place, until I realized that we weren't that far from Canal Street & Chinatown.
Although I didn't eat while I was there, it was nice to check out the festivities.  I'm not sure how I would have fared during the weekend, but I had a good time.
86th Annual Feast of San Gennaro
September 13-23rd 2012
Comments