Posted on | January 14, 2013 | No Comments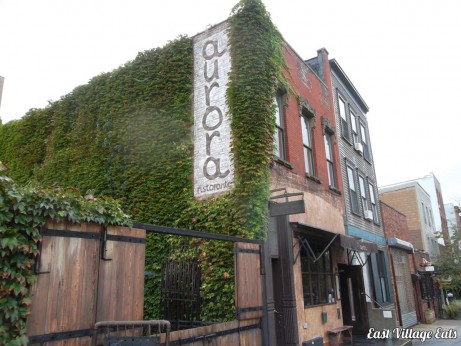 When I started this blog just over 3 years ago I chose (what I thought was) a clever name and planned to review the area that I live in solely, but there's so much great food in this, the most amazing of cities, that I'd be doing everyone a disservice if I didn't branch out every once in a while.
I don't venture out  to Williamsburg that often, but a friend had been raving so much about the food at Aurora that I had to check it out.  The space is really quaint, loads of wood & an awesome conservatory & outdoor seating.  There was a wedding reception happening when I went there, so we ended up sitting at the bar which worked out just fine.
Aurora does an awesome $20 prix fixe lunch which is 3 courses & a full glass of really decent wine. I started with a Potato & Leek Soup which was really tasty.  They included a drizzle of olive oil & some cheese which I was initially not convinced about, but it totally worked.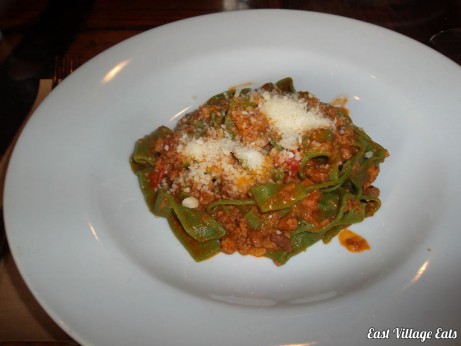 For my main course I opted for the Fettuccine Al Ragu which I cannot rave enough about.  I've eaten a lot of pasta in my time, but this was really high up there on my list.  One of my friends opted for the Steak which I tried a bite of.  Cooked to a perfect medium-rare & served simply with roasted potatoes & caramelized red onions.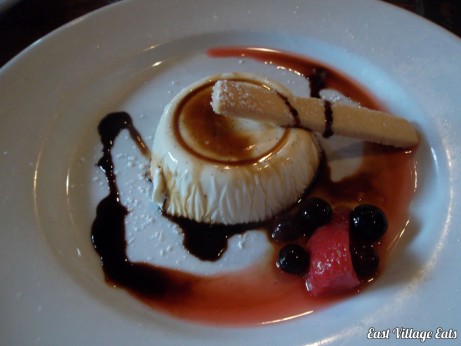 It had just started raining, so Coffee & dessert were right on time.  I got the Vanilla Pannacotta which was served with fruit, syrup & this wickedly sticky-sweet balsamic reduction.  The Affogato (as per the menu) is: "gelato rolled in chopped hazelnuts and chocolate, "drowned" in espresso".  I'd never heard of this dish before, but I will be getting that next time.
The prix fixe menu changes daily, but there is generally a steak & definitely a pasta offering always on rotation.  The wine list is extensive & there are also a few beers on tap.  As I mentioned before, there was a large party in the back so the staff were slammed; service didn't falter at all though.  I'd recommend Aurora as a date spot or even a place to impress your parents.  We had an awesome meal there & I can't recommend the place enough.
Aurora: 70 Grand Street off of Whythe Ave.

Comments