Posted on | February 12, 2014 | No Comments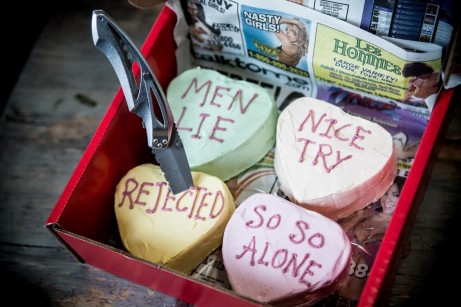 Sick of seeing happy couples on Valentine's Day?  Well so are the folks at Caio For Now.  The East Village bakery & cafe will be hosting an ANTI-Valentine's Day celebration on Friday. $41 per "poor-single-bastard" will get you a 3-course meal.
Give that special someone in your life a box of freshly baked Sweethearts® cakes with personalized messages. Each gift box is comprised of 4 mini, heart-shaped, layered, buttercream cakes including: Chocolate Ganache, Passion Fruit, Vanilla Raspberry Swirl with Chambord Buttercream, and Red Velvet with Cream Cheese Frosting.

Enjoy the many perks of singlehood alongside friends by indulging in a delicious Anti-Valentine's Day themed dinner menu followed by complimentary chair massages, palm readings and broken-hearted cookies.
With entrees such as (He was such a) Coq Au Vin & Hang-Her Steak, how can you go wrong?  Check out the menu below.
Caio For Now: 523 East 12th Street btwn Ave. A & B.
Comments