Posted on | November 11, 2010 | 2 Comments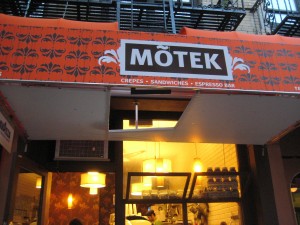 I really don't spend much time on Saint Marks Place, so I was really surprised to stumble on Mõtek (125 Saint Marks Place at Avenue A).  Mõtek serves coffee & sandwiches, but the real draw are the crepes; available in both sweet & savory variations.
The place looks brand spanking new, but the guy behind the counter assured me that they've been open for about 3 months.  It's a small space with a large service area, a tiny table in the back & a few stools & a counter to eat at along the other wall.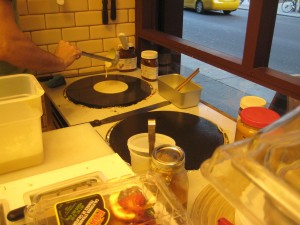 My buddy & I looked through the menu & decided on the Crepe Suzette ($8) as we had just finished eating elsewhere.  The menu includes loads of sandwiches served either on baguette or ciabbatta & range from Pesto to a Gravlax sandwich.  There are two large cooking surfaces by the front windows (window service or awesome free advertising, you decide!) & since the place was pretty empty, we were able to watch the whole process.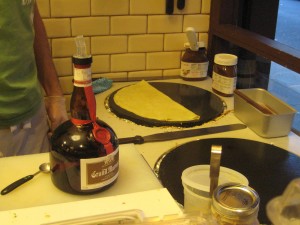 The sweet & savory crepes run from around $7-8 & as with the sandwiches, you can build your own favorite crepe.  $8 gets you 4 ingredients (additional ingredients can be bought for 75 cents).
Mõtek serves breakfast and has both lunch & happy hour specials where you can get discounted crepes and sandwiches.
The final product is a very tangy (both orange & lemon flavors) & slightly boozy plate of deliciousness.  They obviously know what they're doing there (whether it be technique, equipment or ingredients) as the crepe was soft & fluffy.  I enjoyed my crepe there & will be going back to try some of the savory options.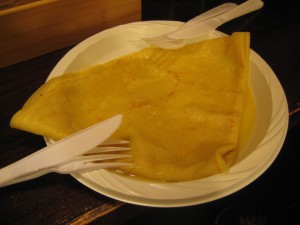 Comments