Posted on | November 18, 2010 | 4 Comments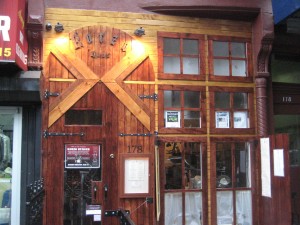 It's been a while since I've talked about the work going on at the old Mohamed's Falafel Star, so it's about time that I reviewed Korzo Haus (178 East 7th St. @ Avenue B), one of the newer additions to East Village dining.  Don't let the exterior (which I really don't care for) fool you, the food inside is really damn good.  It's a small space with plenty of wood (both the walls & seating) & 2 signature beers produced by Peak Organic on tap.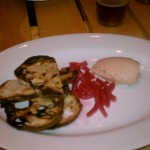 I tried the Korzo Haus beer ($4) & ordered the Chicken Liver Paté ($6) which was so damn awesome that I came back the next day & ordered it again.  It had a very smooth texture & really reminded me more of a mousse but it packed in a lot of flavor in that tiny quenelle.  It was only the first dish & I was blown away.  It was served with pickled red onions (really damn good) & rustic toast.  The pate changes daily, so you have been warned.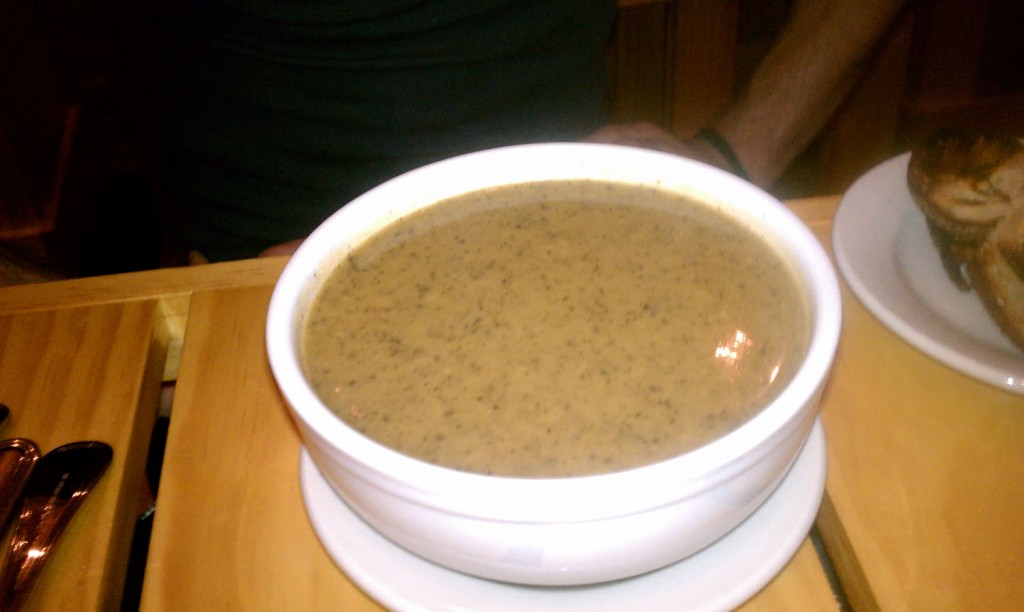 My dinner buddy, Pauly, got the soup of the day ($6).  I can't remember what it was exactly, but he enjoyed it.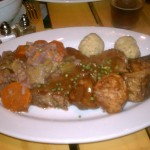 I got one of the daily specials, a braised pork shoulder served with vegetables, dumplings & quite possibly the most amazing gravy.  I'm going to take a bit of time to talk about this dish as I really enjoyed it.  The pork was moist as hell & had loads of fat which I totally love.  The roasted vegetables were good (not too big on roasted potatoes) but the real star was the gravy.  It was incredibly rich & absolutely morish. I could have quite easily downed a pint of that stuff.  By far the best gravy that I've ever had.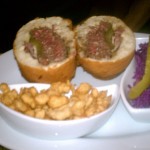 Pauly went for the signature dish, the Deep Fried Korzo Burger ($11), an excellent choice.  Nothing is wrong with your computer & there are no typos here, I really did say Deep Fried Burger!  I've never ordered th thing as I don't want a heart attack, but I've had several bites & this thing is amazing.  Topped with apple smoked organic bacon, Allgäuer Emmentaller cheese, house made mustard &  dill pickle then wrapped in Langoš dough & deep fried. Pure Burger Heaven!
I've quickly become a huge fan of Korzo house.  Although I miss Falafel Star, I'm glad that a good restaurant has moved in, even if it took ages for them the open.  The Executive Chef, Steven, is a really cool cat & often will cook special dishes for regulars.  A friend that works at 7B next door recent got duck curry there & he couldn't stop raving about it.  Korzo is not good for large crowds & the chairs are a bit on the uncomfortable, but it's well worth it.
Update; Further coverage of the Korzo Burger.
Comments