Posted on | April 14, 2011 | No Comments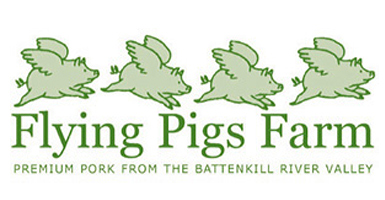 Normally when I think of CSAs (Community Supported Agriculture), I immediately imaging baskets laden with fresh produce but Washington County, NY's Flying Pigs Farms is trying to change all that by starting a pork CSA.  The heritage breed pork (Large Blacks, Gloucestershire Old Spots, and Tamworths) is currently available at Union Square Greenmarket & served at East Village restaurant Back Forty (120 Avenue B at 12th Street).
$550 will get you 10 weeks of porky goodness every Tuesday from May 10th to June 12th 2011 available for pickup at the aforementioned Back Forty.  For an additional $25, you can get a dozen eggs every other week.  The full CSA schedule is here, the total amount of pork is around half a hog.
To sign up for Flying Pigs Farm's pork CSA, call 518-854-3844 or send an e-mail to mike@flyingpigsfarm.com; join by April 18 and get a $20 discount. For more information, visit FlyingPigsFarm.com.
Comments