Posted on | June 29, 2011 | 2 Comments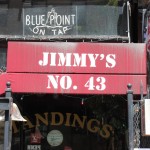 Jimmy's No. 43 on 7th Street will be hosting an all you can eat local oyster bash from 5-10pm this Thursday.  They will be serving a wide range of both wild & farmed Long Island oysters including 'Naked Cowboys' provided by Blue Isle Oysters. Drinks cost extra, but you can enjoy any one of the 2 draught beers they have & the 20+ bottles they serve.
Tickets are $35 & available here.
Jimmy's No. 43: 43 East 7th Street between 2nd & 3rd Avenue.
Comments