Posted on | September 29, 2011 | 1 Comment
Initially I wanted nothing to do with this place, but I found myself down the block yesterday with an hour to kill so I decided to have some breakfast.  Chain restaurants (TGIF, Denny's & the like) aren't really my cup of tea, but I'll admit that once I made the decision to eat here, I was somewhat excited as the place reminds me of my childhood growing up in Cleveland.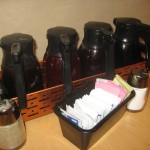 Once we arrived, we were seated by quite possibly the most enthusiastic restaurant employee I've ever met.  A massive ear-to-ear smill & just an awesome demeanor; I was already impressed.  The interior is drab & sterile which is pretty much how all IHOPs are, so there's nothing to be surprised about there.  Our server, Sarah, was also pretty energetic & our food came out pretty quickly.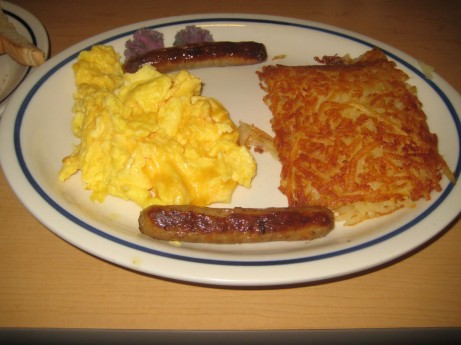 I'm thinking that I should have ordered pancakes, but we both got a pretty generic option; Scrambled eggs with cheese, hash browns & toast.  One with bacon, one with sausage.  While I was fully expecting to be served bad food, I honestly couldn't find any fault with the food at all.  The sausage in particular was actually pretty damn tasty.  The orange juice was good, the toast came already buttered, the service was great…  I'm a convert.
I did ask about the whole bouncer 'thing', & the girl who seated us basically said that since they're 24 hours they do get some knuckleheads late at night.  It makes sense.
While I won't be going there regularly, I could see myself eating the occasional meal there.
IHOP: 235 East 14th Street between 2nd & 3rd Avenue

Comments