Posted on | December 26, 2011 | 3 Comments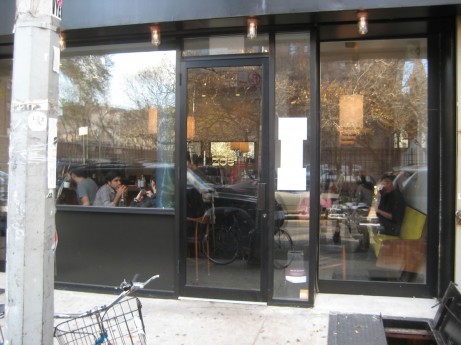 While I hate to see restaurants close, I guess that there's only so much room in the city.  When Satsko Eldridge shut its doors in February, it gave Chef Zoe Feigenbaum (from Bravo TV's Chef Academy) the opportunity to take over the space.  I'll admit that I didn't know much about the new restaurant & the chef, but I was interested to see what they had done with the layout.  Gone is the wood exterior which makes for a much brighter.  The bar is a bit smaller now which makes it a lot easier to get around.  Ok, now on to the food.
It was a Sunday afternoon & although we didn't have reservations, we were seated immediately.  Eggs feature heavily on the menu, but there are some sweet options such as pancakes & Labne (strained yogurt) with fruit & granola.  There are some Southern & Mexican influences there with Fried Chicken & Biscuits and Mexican Shrimp.  We all ordered Bloody Mary's while we decided what to eat.
I had a coupon for brunch, so we had the choice of one sweet or savory option & a side.  I got the Corned Beef, Hash & Eggs with a side of Hominy Grits.  Now this isn't the canned corned beef hash that I was so fond of in college, this is how it's meant to be done.  The eggs were a bit overcooked, but I liked the dish & the grits.
My brunch partners got the Bacon & Egg Sandwich and the Mexican Shrimp & Eggs respectively.  The sandwich had cheese, smoked bacon & avocado on a brioche bun.  The Mexican shrimp had white beans, pickled onions, avocado & salsa verde.  All of the dishes were well received & I was a real fan of the buttermilk biscuit which was massive.
The Dinner Menu (via Bowery Boogie) is still somewhat American (bone in Ribeye Steak) but leans towards Italy with dishes ranging from octopus to Eggplant Parmesan.  I enjoyed my meal there & will be looking forward to having dinner at Zoe.
Zoe: 245 Eldridge Street between East Houston St. & Stanton St.

Comments