Posted on | January 11, 2012 | 4 Comments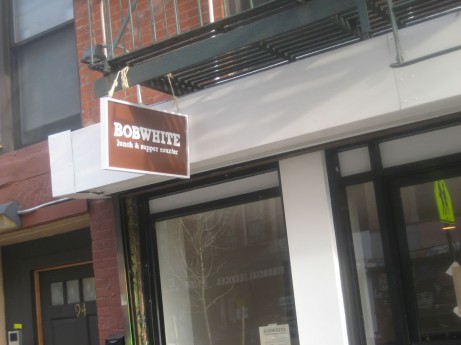 I tend to keep my ears open about new restaurants whenever possible, so after the closure of Singa's Famous Pizza a few months ago, I was hoping that something would quickly take it's place.  It took 10 months, but now we have a new lunch & supper spot (brunch in the works) on Avenue C.  Named after a species of quail, Bobwhite opened a few days ago & specializes in a few plates: chicken, sandwiches & sides.

I visited recently & I was impressed by the remodeling they had done on the space. There's a long counter & several high tables for a total of 17 seats.  With a few of the recent closures in the 'hood (Joe's & Duke's in particular), it's really nice to see a new place open that I actually enjoy.  Ok, now on to the food.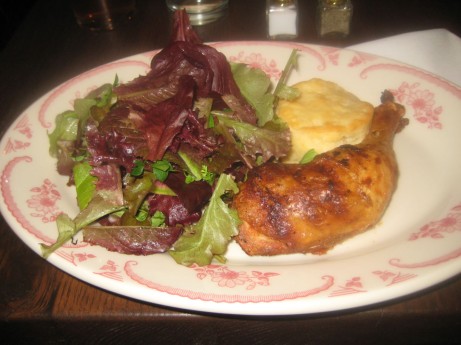 Roast Chicken
Served with an insanely good biscuit & salad, it's a full leg & thigh of deliciousness.  The skin is crispy & well seasoned & the meat was really moist.  I was a happy camper.
Fried Chicken
I was lucky enough to get a batch straight out of the fryer, insanely moist with a substantial breading which I really enjoyed.  I think I prefer this to the roast chicken.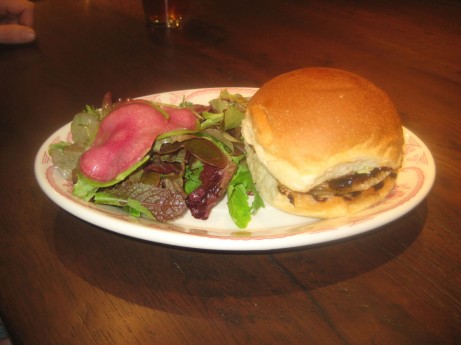 Pork Chop Sandwich
It's been suggested that Porchetta now has a serious competitor for the best pork sandwich in the East Village & I'm in agreement.  Topped with chow chow (a Southern relish, see here) & served on a bun with salad.  They're onto something here.
Winter Salad
Baby greens, red beets, goat cheese, Florida grapefruit & candied pecans.  Topped with a shallot vinaigrette.  That's a whole lot of ingredients, but it worked well.
Cheddar Grits
Cooked in milk for extra creaminess & loaded with cheddar cheese. If you make grits at home with the store bought Quaker brand, you can immediately taste the difference in quality.  The grits here are the real deal.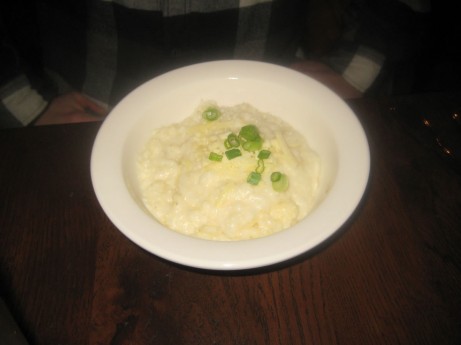 Other sides include Black Eyed Peas & Creamed Kale.  They tend to rotate, so make sure you take a look at the board to the right when you enter the restaurant (or just ask your server).
There's a real lack of restaurants open for lunch in the East Village & Bobwhite totally fills that gap.  Check it out if you get the chance.  It's moderately priced & well worth the visit.  The Sweet Tea there is great also.
Bobwhite Lunch & Supper Counter: 94 Avenue C near 6th St.

Comments