Posted on | March 1, 2012 | 2 Comments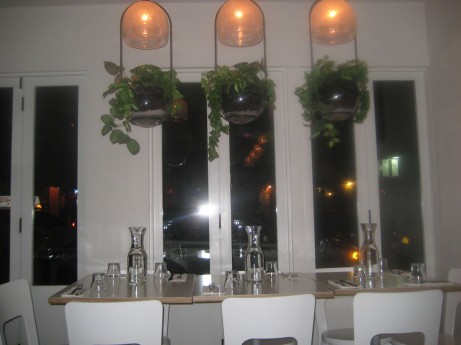 I first visited back in December (review) and tried a few dishes from what I thought was the full menu.  It turns out that that was just the tip of the iceberg & the complete menu is now in full swing.  Not much has changed, but there are now 8 shared plates, 5 mains, 5 sides & a few desserts.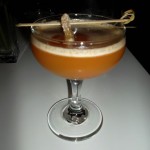 It was nice to hear that business has picked up recently, but I was glad that there wasn't a wait when we arrived.  I'm gradually trying to work my way around the drink menu and had enjoyed the Thai Fighter last time, but I decided to try The Lion which has ginger, kaffir lime & a dash of Sriracha for added heat.  I think that's my go to drink from now on, but others still swear by The Toucan.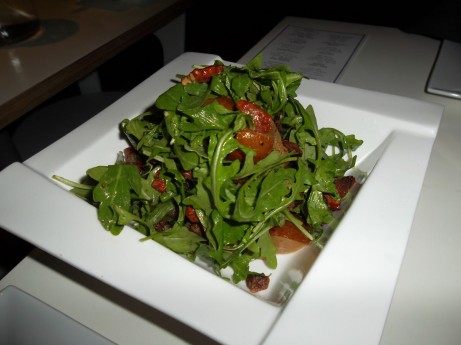 Sticky Pear & Arugula Salad
We actually didn't order this dish, but there was a bit of a mix-up & it arrived at out table.  It came with spiced pecans, pork crackling & sake vinaigrette.  I'm not much of a salad eater, but I really liked the caramelized pear & who can argue with pork cracklings!
Scotch Eggs
I was really excited about this addition to the menu, it's not easy to find a good Scotch Egg around here and their interpretation changes the game with duck sausage &  kaffir lime aioli.  Just looking at these things were enough to get my blood pumping.  The eggs were perfectly runny & the five-spice in the duck sausage added loads & loads of flavor.  There was a lovely outer breading & I liked the aioli; a win all the way around.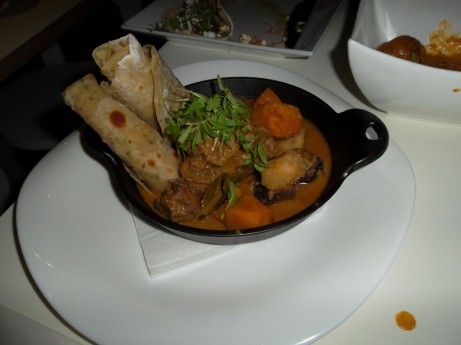 Goat Pot Pie
I grew up eating frozen Banquet pot pies & do love goat, so I was stoked about this addition to the menu.  I'll admit that I was initially disappointed when it arrived at the table; the pie had been deconstructed & childhood memories of having to tear into the steaming crust were dashed.  Gone is the 'pie' & in it's place is roti, a bread made from wholemeal flower.  The pie has super-tender goat, sweet & purple potatoes and an amazing braising liquid that is just made to be soaked up with the roti.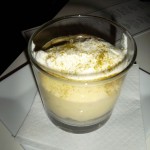 Kaffir Lime Custard
New on the menu & insanely good, I was really very impressed.  We made the mistake of eating most of the custard before realizing that there was a delicious graham cracker crumble at the bottom of the cup…  It really adds a nice texture & flavor.
If you get this dessert, remember to dig deep! 
Most of the dishes from my previous visit are still on the menu, so I didn't bother to recap them again.  The Drunken Manila Clams & the Burger are both highly recommended, but I have as yet to try them.  I guess I'll save that for me next visit.
So that's 2 great meals under my belt, I'll be coming back again.
The Toucan And The Lion: 342 East 6th Street off of 1st Avenue
Previous coverage here
Comments