Posted on | March 20, 2012 | No Comments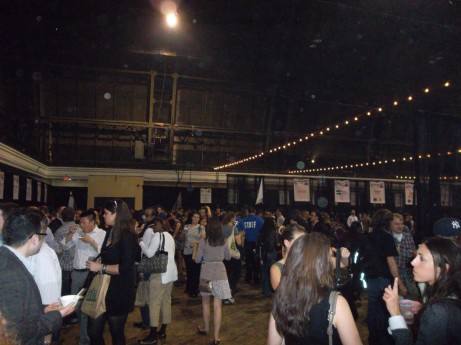 I've been to a few Food Events over the past few years, so it wasn't my first rodeo, but nothing prepared me for the scale of this year's Choice Eats tasting event that took place last week.  I thought I'd be clever & arrive 15 minutes early to 'avoid the crowd', but we were greeted with a sea of ticket-holders, many of whom must have arrived hours earlier.  We were told that the line ended around the corner, but it continued for 2 more blocks, pretty much full circle.  My nephew & I waited patiently in line while I second-guessed myself for being such a cheapskate & not coughing up $30 more for VIP tickets which would have given us access an hour earlier.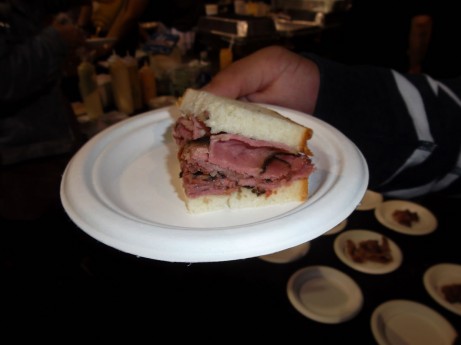 They finally started letting us in at 6:30 & after 30 minutes of waiting we got in at last.  The 69th Armory was absolutely heaving with what must have been a thousand people.  It pretty much looked like a pack of starving hyenas let loose in the Pat LaFrieda warehouse.  We made the mistake of turning right at the entrance & heading down the narrowest aisle which made walking & eating a complete chore.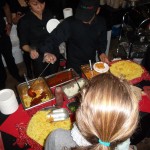 We started at the first table that didn't have an insane crowd of vultures hanging around (Red Hook Lobster Pound was SWAMPED), in this case it was table #52, Chinese Mirch which was serving up some sort of wacky, crunchy rice dish.  I wasn't a fan, so we moved on.  We made our way down the tables till we arrived at #70, Kelso a Panamanian spot in Prospect Heights.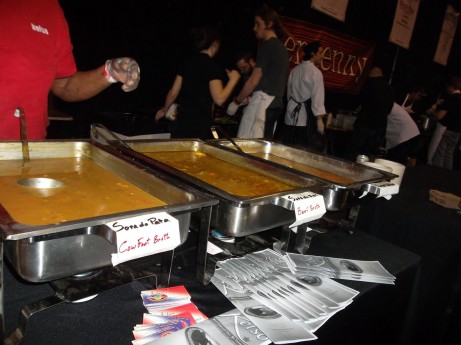 As soon as I saw the words 'Sopa de Pata' (Cow Foot Broth to the rest of us) I knew I was in the promised land.  I've eaten a lot of soup in my 34 years, but this was hands down the most amazing soup I've ever had.  The gelatin in the cow foot made for a thick broth & the spices were out of this world.  By the end of the night I had 4 servings.
There were plenty of East Village restaurants represented. Kafana had these awesome little grilled sausages served on traditional Serbian bread, Joe Dough (sister restaurant to JoeDoe) was slinging sandwiches & so was This Little Piggy Had Roast Beef.  Brooklyn's No. 7 had one of our earliest favorites, a pork & shrimp sausage (an odd combination that really worked) topped with cilantro & a delicious grape jelly.  We loitered around that table for a while.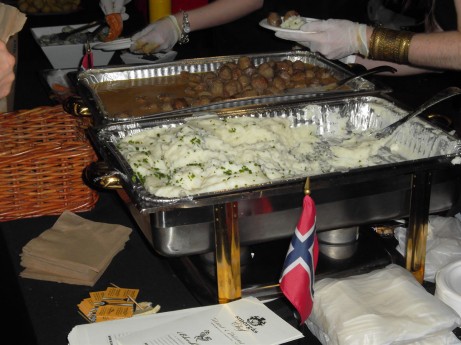 Smorgas Chef had a really awesome offering with Swedish Meatballs with an amazing Ligonberry jam and Aquavit cured Gravlaks.  If I didn't have so many other tables to go to I would have had second helpings here.  Bowery Diner in the LES had possibly the best pancakes I've ever had, so much so that my nephew had 3 servings.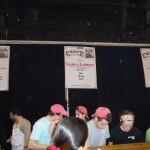 Luke's Lobster was also there serving up shrimp rolls, but I'll admit that I was far from impressed at their offering.  It was pretty close to closing & they had obviously taken the shrimp straight out of the cooler making it way too cold.  I love Luke's, but I think the pressure of the final rush of diners was too much for them.  By the time I made it to table #1, the Meatball Shop, they were already out of food.  I did, however, get to see Mikey which was a small consolation prize.
This post could literally go on forever as there were so many restaurants represented so I'm just going to end here & let you look at the gallery below.  Needless to say I will be buying VIP tickets next year & going again.
Comments