Posted on | May 12, 2012 | No Comments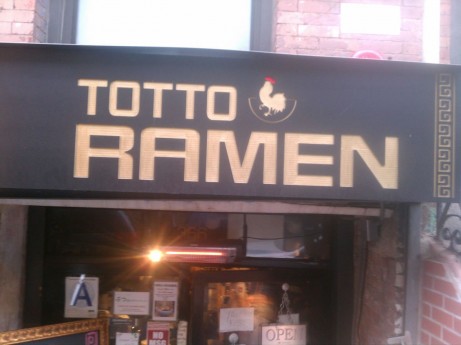 It's no real secret that I'm a huge Ramen fan, but I don't often venture far out of the East Village.  A few weeks ago, I was going to a show at Terminal 5, so it was the perfect opportunity to head uptown & check out Totto Ramen.  I've heard horror stories about massive lines & long wait times, but luckily we were in there after about 5 minutes, just as it started to rain.
We snagged seats at the bar where we could watch all of the magic happening.  I particularly liked how the chef's took a (plumbers?) blowtorch to the pork to add extra crispiness.  The menu is pretty self-explanatory; 8 types of Ramen are the main body, but there are a dozen sides/toppings that you can add to your order to create combinations.  They also have a few seasonal specials like Spicy Tuna Don & braised Char Siu (pork belly) over bean sprouts.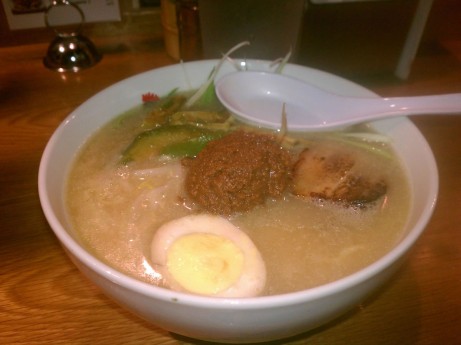 We we there for the Ramen, so didn't mess about.  I got the Miso Ramen, which came with a nice dollop of miso.  before I mixed everything together, I tried the broth; it was light & reminded me of the broths at Rai Rai Ken & Kuboya, but once the miso was mixed in, it thickened & was more like the broth at Minca (which I love).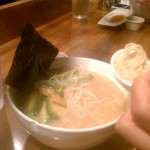 Pauly got the Spicy Ramen (blurry pic) which was topped with chili flakes & oil, but Jane was the most adventurous & got the Extra Spicy Ramen.  The picture really doesn't do it justice as hidden behind the nori is a sizeable bowl of the above mentioned chili sauce.  Jane's sort of a vegetarian, so we ate all of her pork belly.  I tried some of the sauce & it wasn't mind-numbingly hot & Jane ended up adding the whole thing to her Ramen.  Jane & I also added avocado to our orders, which was a nice cooling touch to the dish.
Ok, onto the nitty-gritty…  I wasn't blown away by the Ramen here.  It was good, but not great & I wouldn't travel to Midtown just to have it again.  We shared a subway ride with to Japanese tourists who ended up sitting next to us at the bar, so obviously this is very good Ramen, but I just couldn't see it.  Blame it on my taste buds.
My main gripe was the pork in the dishes; My favorite part are the hunks of fat in the pork belly which I just can't get enough of, but at Totto, the pork was way too lean.  Again, this is my humble opinion.  Even though there was a massive line (mostly Japanese) forming outside in the rain, we took our time, enjoyed the food & talked with our fellow ramen-lovers sitting at the bar.
I'm glad I went to Totto, but unless I'm doing something in the area, I doubt I'll be going back.
Totto Ramen: 366 W. 52nd Street between 8th & 9th Avenue
Comments