Posted on | July 9, 2012 | 1 Comment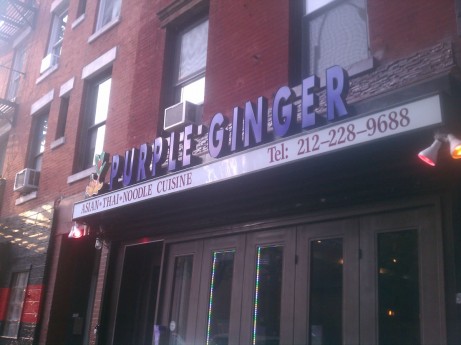 Housed in the former 6th Street Kitchen (coverage) location that burnt down in early 2011, Purple Ginger is a newcomer to the East Village Asian/Thai scene.  I recently had dinner with a few friends & was pleasantly surprised by the food.  The space looks great with loads of wood paneling & a decent sound system (some of the music selection was suspect though).  There's a bar at the back of the space with beer & a large selection of sake.
Appetizers include soups, salads & dumplings so we decided to share a few.  I thought that the Fried Pork Dumplings were a too 'doughy' which made them a bit rubbery.  The filling, however, was very tasty.  I enjoyed the Crispy Spring Rolls, they were really flaky (as they should be) & the sweet chili sauce worked well.  I was most excited (& then disappointed by) the Avocado Crab Cakes.  On the menu, they sounded great, but there was very little crab in them.  The dish came with a spicy tomato yogurt sauce which was awesome, but just didn't make up for the lack of crab.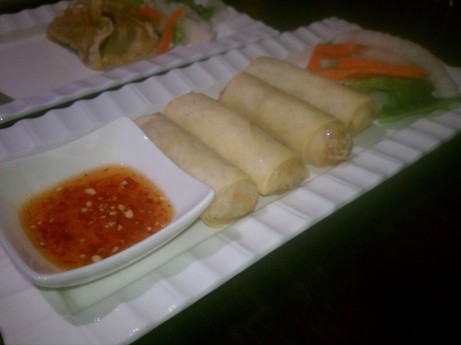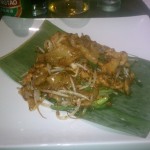 The rest of the menu is quite extensive, with most dishes available in vegetable, beef, chicken & seafood options.  If you're in the mood for noodles, you can choose your preferred type of noodle which can lead to some interesting combinations.  All three of us ended up getting noodles with the Spicy Drunken Noodles perhaps being the most popular.  I had broad noodles with scallion & beansprouts. It was good, but not extraordinary by any means.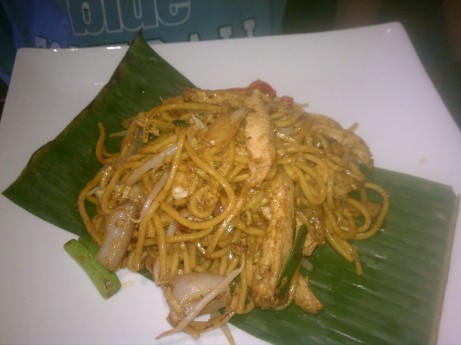 Purple Ginger is a welcome addition to the neighborhood. It's definetely not a restaurant you'd go out of your way to dine at, but it's a good looking space, the food is tasty & it's inexpensive.
Purple Ginger: 507 East 6th Street near Avenue A

Comments