Posted on | August 31, 2012 | 1 Comment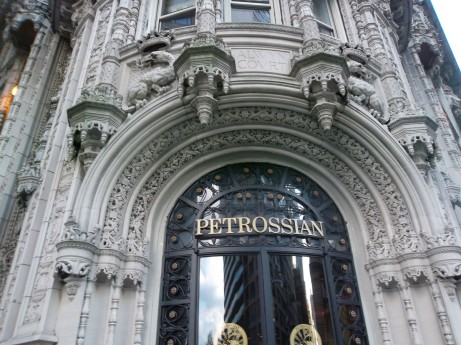 Caviar, I can't get enough of the stuff.  Unfortunately, it's so damn expensive that opportunities are few and far between.  When an affordable four course meal for two popped up on Groupon, I decided that it was time to take my Mom out for dinner.  If you haven't been to the restaurant, odds are that you'e heard then name.  Petrossian has been a major player in the caviar game since the 1920's.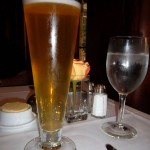 Located in the Alwyn Court Building a stone's throw from Central Park, the restaurant is definitely a throwback to the fine dining of years gone by.  The dining area has bronze sculptures, chandeliers & sconces — fitting given the location, but not what I'm used to.  I started with a beer and a shot of vodka (included in the Groupon) as we waited for our first course to arrive.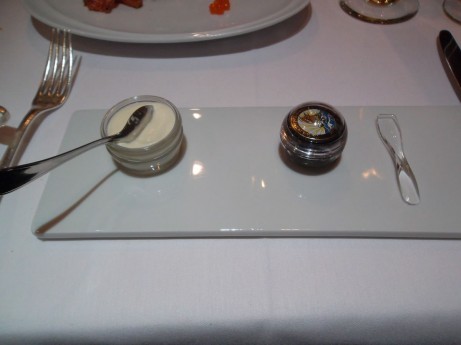 First up was the caviar,  a 12-gram serving with toast and crème fraiche.  This was the reason why we were here & I'm not ashamed to say that I spent a lot of time making sure I got every single delicious fish egg out of the rather cumbersome container.  This is proof that good things come in small packages.  A subtle fish flavor without being too oily, we were in heaven.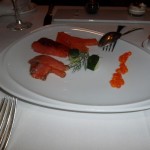 Served with the caviar was a shared platter of smoked salmon cured 3 ways (unfortunately I forgot to write these down) & accompanied by salmon roe.  All 3 variations were good, but I've eaten a lot of smoked salmon in my time & I wasn't blown away.
Honestly, I preferred the salmon at Shelsky's.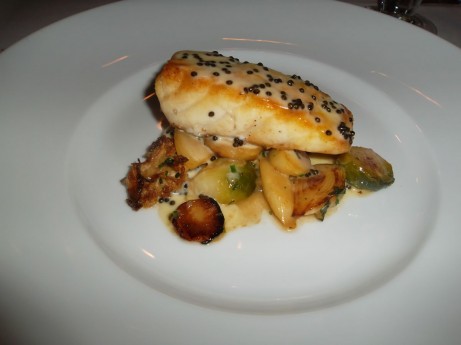 I ordered the white sturgeon as my main course.  This isn't a fish that I get to eat a lot, so I wasn't going to let this chance pass me by.  Grilled & servered over vegetables (cauliflower, zucchini & brussel sprouts) and topped with a deliciously rich caviar butter cream sauce.  My mother ordered the filet mignon served with mushrooms & mashed potatoes.  I didn't try it, but she seemed to like the dish.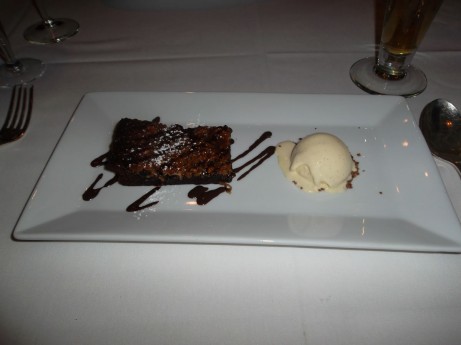 Dessert followed and I ordered the brownie while my Mom got the apple tart, both served with ice cream.  I was really looking forward to the brownie, but unfortunately it was topped with caramelized walnuts which I really didn't care for.  The apple tart (sorry for the blurry picture) looked good & I wish I had ordered that.
On the whole we both enjoyed our meal at Petrossian, but I will admit that the shot of vodka that came with the meal had me gasping for air.  That's some strong stuff!  If you're in the mood for caviar, it's worth the trip up there.  Things are a bit less stuffy during lunch service, don't be fooled by the 'jacket suggested' recommendations. There are also choices of prix fixe meals which offer a good selection.
Petrossian: 182 W 58th St at 7th Avenue

Comments