Posted on | November 12, 2010 | No Comments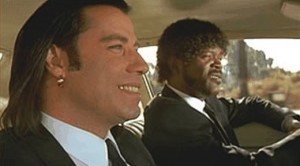 Trolling along Avenue C & looking for something to eat, I decided to stop by my old haunt Royale (157 Avenue C @ 10th Street review here).  I haven't been there in several months & I wanted to see if there have been any changes there.
Luckily, there aren't; they're still making delicious burgers, still have cans of Porkslap Pale Ale & still have amazing bartenders & waitstaff.  I ordered a medium-rare Royale w/Cheese ($7.50).  I was sipping on my Porkslap (an awesome beer made upstate & rarely seen in bars (Grape & Grain has it too)) when my burger arrived.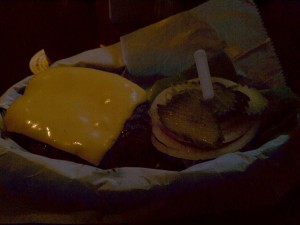 As usual, it's served very simply; in a basket with pickles, onion, tomatoes & lettuce (Boston Bibb?), after a few dollops of ketchup & mustard I dove in.  What hit me immediately is how juicy the damn thing is.  I'm not sure if you're meant to let burgers rest as you do with other meats, but I was really taken aback by how tender it was, amazing!  The bun is extremely fluffy too which helped to absorb all those juices I was spilling everywhere.  Burger Heaven!
Sarah, the super-duper awesome bartender, didn't waste time ribbing me, both for staying away for so long & also for the fact that I am quite honestly the world's slowest eater.  I'm kicking myself for having spent so long away from Royale.  I've been on a bit of a burger/slider kick lately; Black Iron Burger, Zaitzeff, Mini Burger, Esperanto etc, but Royale wins hands down.  Bravo!
Comments