Posted on | October 26, 2011 | 2 Comments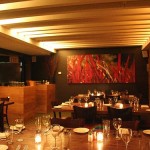 My first visit to Jane back in January was pretty good, so I jumped at the chance to check the place out again for brunch recently.  A friend was celebrating his birthday & there was 11 of us in total, meaning that I'd be able to see more of the menu.  Given that we were such a large group, they seated us in the downstairs Green Room.  It was less spacious than the main room, but no less inviting.
For those who have never been to Jane, it's a 'Casual American Bistro with an affinity for local ingredients'.  We were seated & ordered drinks.  Most of us went with Bloody Mary's or cocktails including Raspberry Champagne or Mimosa Cosmos.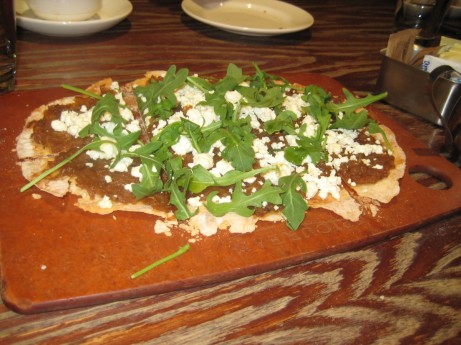 Goat Cheese Flatbread
Topped with caramelized onions, goat cheese & arugula.  It was a nice, light start for the table & I could have eaten it all day.
Vanilla Bean French Toast
Thick slices of Brioche, crème brûlèe batter & Vermont maple syrup. Possibly the best French Toast I've ever had!
Farm House Scramble
Smoked ham, Gruyère, caramelized onions & mixed greens. Not bad, but pretty standard.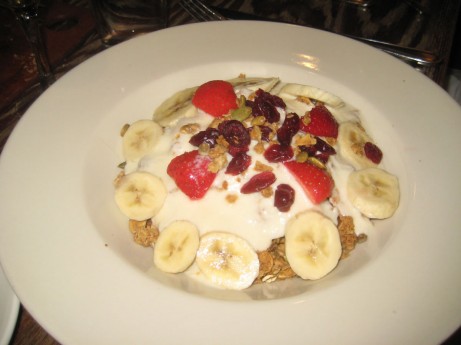 Homemade Granola
Low-fat yogurt, honey, bananas & dried cranberries. A pretty damn good-looking dish, but I'm not much of a granola guy so I didn't try it.
Salmon & Avocado Tartare
Not as brunch-like as the rest of the dishes, but you could tell that effort was put into this dish. Served with soy-wasabi citronette & wonton crisps.
Wild Mushroom Soup
I didn't try it, but it smelled very good & was well received.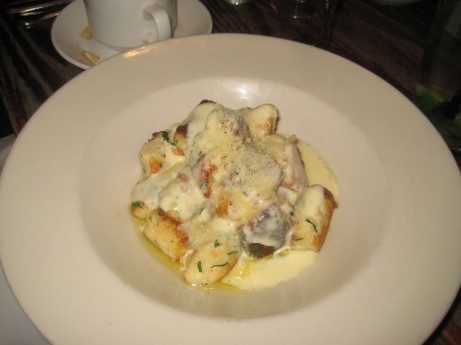 Toasted Ricotta Gnocchi
With Italian parsley, parmesan & white truffle crèma. Perhaps the best thing on the menu. Just really, really good. I highly reccomend this dish
Jane also serves 7 sides including Double-smoked Bacon, vegetables & Chicken Sausage.  I was a huge fan of the thick cut bacon.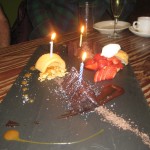 For dessert we got a sampler plate featuring several cakes, pastries & fruit.
We all very much enjoyed our brunch at Jane & will be going back for more.
Jane: 100 West Houston between West Broadway & Thompson St.
Comments