Posted on | March 22, 2012 | 2 Comments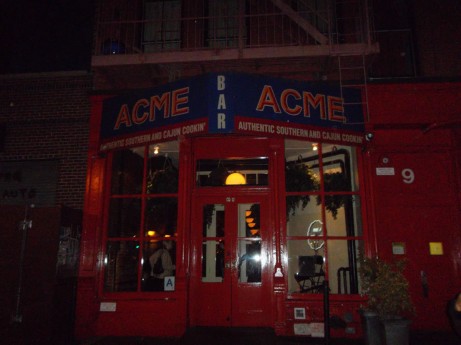 Back in May of last year I wrote about how Acme, one of my favorite Southern food mainstays, had unceremoniously closed (employees were given no notice at all), completely gutted (EVGrieve has coverage) & after lengthy renovations opened as a Nordic (by way of Scandinavia) restaurant.  The team from Bond St. managed to convince Chef Mads Refslund, a founder of Noma to move from Copenhagen & become the executive chef.
I finally had a chance to eat there a few weeks ago.  It was pretty early on a Wednesday but the place was packed.  Luckily my brother was working that night so we got a seat at the bar.  I'd recommend making reservations.  They've kept the doors & signage the same, but the interior has been completely reworked.  If you had been there before, you wouldn't recognize the place at all.

Country Bread
Our first course.  Thick cut bread topped with roasted pumpkin, Camembert & herbs.  Simple yet effective.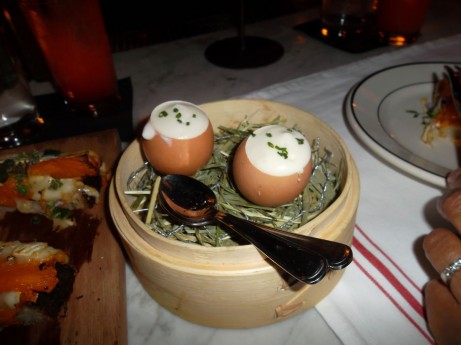 Farmer's Eggs
Aged Parmesan, cauliflower & egg foam, topped with chives & served warm in the shell.  I could have literally eaten a dozen of these things.
Duck in a jar
Another really simple dish that packed in loads of flavor.  Shredded roasted duck with pickled vegetables (cabbage, radishes & carrots).  Pretty heavy on the vinegar side, but still really tasty.
Raw Foie Gras & Langoustine
I'm pretty sure that this dish had a fancy name, but I honestly cannot remember.  We were pretty full by this time, but couldn't resist the opportunity to try raw foie gras.  I have to tip my hat to the chef because this was the best dish of the night.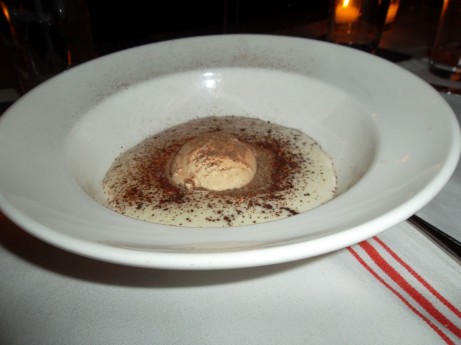 Beer & Bread Porridge
Guinness soaked Rye bread porridge & salted caramel ice cream
I really enjoyed my meal at Acme & will be coming back.  I didn't try any of their cocktails, but there's quite an extensive list.
Acme: 9 Great Jones St at Lafayette St
Comments