Posted on | November 12, 2012 | 1 Comment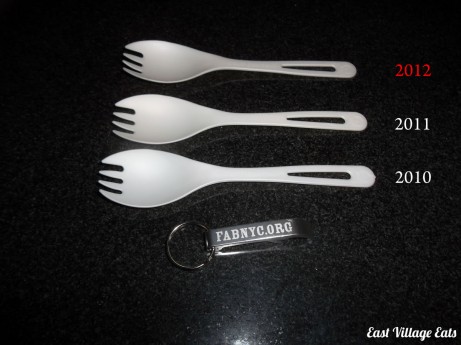 Well it's that time of year again when I trying to put into words the amazing food that I've eaten at Fourth Arts Block's annual tasting tour.  Superstorm Sandy put a wrench in the works, so coverage is a bit later than usual this year, but well worth the wait.
As with last year, things kicked off In Extra Place at 1pm with a short line to pick up or wristbands, map, spork & complimentary bottle of Nika Water (100% of profits go to charity).  Wanting to make full use of the day we arrived early & there wasn't much of a line.  This was my 3rd event (I have the sporks to prove it!), so I was pretty well versed in the process & planned out a very efficient route to visit all 12 participating restaurants. Now onto the food:
Oaxaca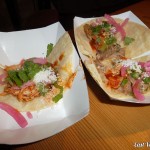 This was right by the starting point, so it made perfect sense to go here first.  They were serving mini tacos with a choice of pork or chicken; I opted for the latter.  It was good, a little spicy, but not overbearing.  I particularly liked the picked onion.  I hadn't had breakfast, so I wanted more, but I knew I had a full day of eating ahead of me.
L'Apicio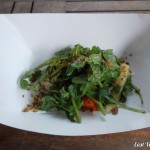 This was another restaurant right by the starting point amid the new construction on 2nd Avenue (RIP Mars Bar).  They served a roasted carrot salad with cumin yogurt, pistachios and avocado.  Normally I'm not much of a salad eater, but the carrots were absolutely delicious.  Roasted until they were super-sweet, they went perfectly with the spiced yogurt.
Veselka Bowery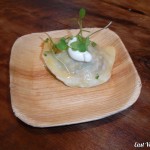 Again, this was right next door so it wasn't much of a walk to the newest outpost of the popular original location a few blocks north.  We were served a short rib pierogi, a perfect mouthful.  Topped with a dollop of sour cream & some microgreens (by request, to make the picture look better), the beef was flavorful & literally fell apart in your mouth having most likely been braised in red wine.
Salon Hecho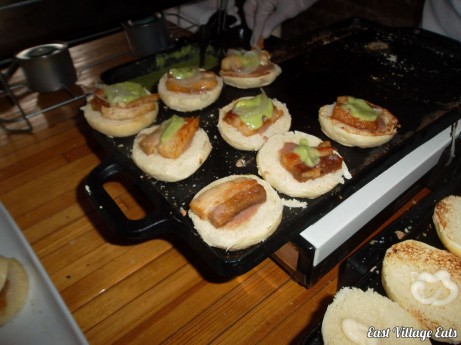 Now this was my favorite dish & duly deserves some in-depth coverage.  The chef had set up two griddles towards the front of the restaurant where he was making Tortitas de Carnitas;  Berkshire pork belly brioche sliders.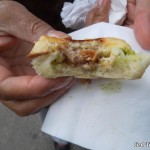 They were topped with brown bean puree, pickled red onion & a tomatillo-avocado salsa.  Honestly, I can't describe how good they were.  The food tour had a strict 1 serving per venue rule, but we couldn't help ourselves & had a second slider as we ran out the door.  If you were there, you would have done the same.  They were that delicious!
Jum Mum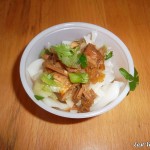 I don't eat on St Marks Place often because it's always so busy, so I didn't even now this place existed.  My loss.  It's a tiny restaurant serving Korean buns & noodle dishes.  The staff were really friendly & explain the dish & it's ingredients.  We had steamed rice noodles with chopped pork belly & smoked tofu.  I was licking the container by the end.
Spot Dessert Bar
Unlike Jum Mum, we got absolutely no attention from the staff here.  I'll admit that it was busy, but the attitude was very much 'here's your cookie, get out'.  Much like the customer service, the chocolate chip coconut cookie was pretty awful.  Worst offering of the day.  If I'm in the mood for sweets I'll go to Macaron Parlor down the street.
Luke's Lobster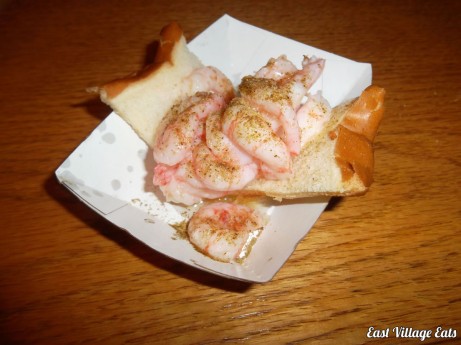 Luke's served up mini shrimp rolls this year & as usual, they were delicious.  Last year there was a massive line there, but this time we showed up & it wasn't busy at all.  I've reviewed Luke's plenty of times, so I'm not going to go into much detail.  If you haven't been there yet, GO!
Wechsler's Currywurst
Grilled bratwurst with housemade curry ketchup (I really need a bottle of this stuff, or at least attempt to replicate it).  Absolutely delicious as evidenced by the trash can on the corner.
Hot Kitchen

Spicy Sichuan cold noodles with a sesame peanut sauce.  Normally I'm not into spicy food (anyone remember the cold skin noodle debacle at 2010's event?), but I had no problem with this dish & really enjoyed it.  Hot kitchen is another restaurant on the list that I've never been to (or heard of), but I will be going back solely based in this dish.
Bikinis

Another newcomer to the East Village.  Bikinis serves tapas & pressed sandwiches from Barcelona called bikinis.  We arrived close to the end of the tour so they were no Albondigas Machados (pork & beef meatballs topped with a white wine carrot sauce & green peppers) left.  We did have ham & cheese bikinis which were pretty darn tasty.
Poco
Our final stop of the day, Poco had brownies which were pretty standard, so I don't have much to say about them.
We had a long day of excellent food & while we didn't visit any of the participating art galleries & cultural spots recommended by Fourth Arts Block, we did have a great time.  I'm looking forward to next year.  Till then…
Have a look at the 2010 & 2011 FAB East Village Eats Tasting Tour coverage.
Comments